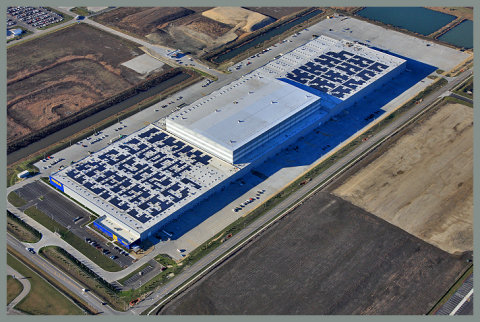 IKEA U.S. announced it has completed the installation for Illinois' largest solar rooftop on its Midwest distribution center under construction in Joliet, IL.
The distribution center's 268,920-square-foot solar array consists of a 2.85 MW system, built with 9,036 panels, and will produce approximately 3,377,000 kWh of electricity annually for the facility.
IKEA owns and operates each of its solar PV energy systems atop its buildings – as opposed to a solar lease or PPA (power purchase agreement) – and globally has allocated $2.5 billion to invest in renewable energy through 2020, reinforcing its confidence and investment in solar photovoltaic technology.
IKEA aims to become energy independent by 2020 and has installed more than 700,000 solar panels on buildings across the world and owns approximately 300 wind turbines, including 104 in the U.S. – 49 of which are in Hoopeston, IL.
editor@greentechlead.com