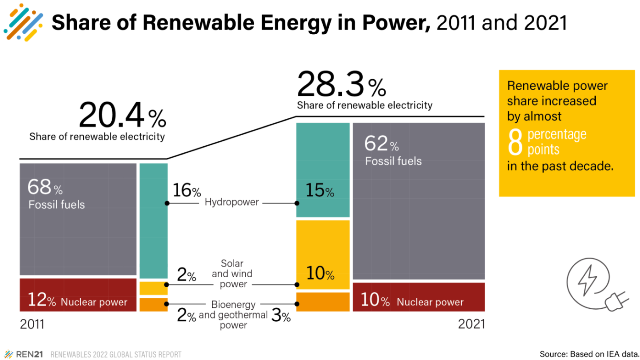 India ranked third globally for total renewable power capacity additions with 15.4 GW in 2021, following China (136 GW) and the US (43 GW), REN21's Renewables 2022 Global Status Report (GSR 2022) said.
India added 843 MW of hydropower capacity in 2021, raising the total capacity to 45.3 GW.
India was the second largest market in Asia for new solar PV capacity and third globally (13 GW of additions in 2021). It ranked fourth for total installations (60.4 GW), overtaking Germany (59.2 GW) for the first time.
India ranked third globally for the total installed capacity of wind power (40.1 GW), behind China, the US and Germany.
The share of renewables in the world's energy consumption has stagnated — rising only minimally from 10.6 percent in 2009 to 11.7 percent in 2019 — and the global shift of the energy system to renewables is not happening.
In the electricity sector, record additions in renewable power capacity (314.5 gigawatts, up 17 percent from 2020) and generation (7,793 terawatt-hours) were unable to meet the increase in electricity consumption of six percent.
In heating and cooling, the renewable share in final energy consumption increased from 8.9 percent in 2009 to 11.2 percent in 2019.
In the transport sector, where the renewable share went from 2.4 percent in 2009 to 3.7 percent in 2019, the lack of progress is particularly worrying, as the sector accounts for nearly a third of global energy consumption.