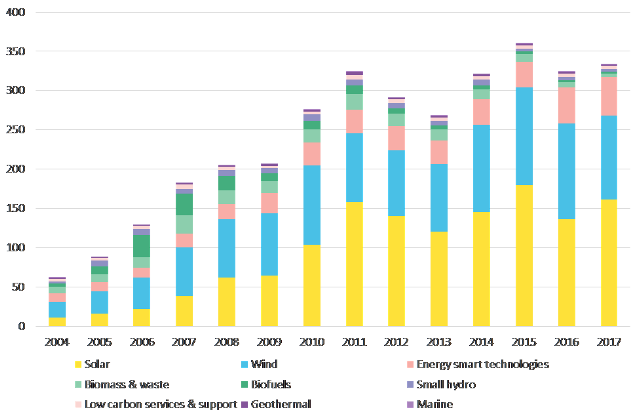 Solar led the way in terms of clean energy investment, attracting $160.8 billion – equivalent to 48 percent of the global total for all of clean energy investment, says a new research from Bloomberg New Energy Finance (BNEF).
The two biggest solar projects of all to get the go-ahead last year were both in the United Arab Emirates: the 1.2GW Marubeni JinkoSolar and Adwea Sweihan plant, at $899 million, and the 800MW Sheikh Mohammed Bin Rashid Al Maktoum III installation, at an estimated $968 million.
Wind was the second-biggest sector for investment in 2017, at $107.2 billion. This was down 12 percent on 2016 levels, but there were record-breaking projects financed both onshore and offshore.
Onshore, American Electric Power said it would back the 2GW Oklahoma Wind Catcher project in the U.S., at $2.9 billion excluding transmission.
The third-biggest sector was energy-smart technologies, where asset finance of smart meters and battery storage, and equity-raising by specialist companies in smart grid, efficiency, storage and electric vehicles, reached $48.8 billion in 2017, up 7 percent on the previous year and the highest ever.
The remaining sectors lagged far behind, with biomass and waste-to-energy down 36 percent at $4.7 billion, biofuels down 3 percent at $2 billion, small hydro 14 percent lower at $3.4 billion, low-carbon services 4 percent down at $4.8 billion, geothermal down 34 percent at $1.6 billion, and marine energy down 14 percent at just $156 million.
The clean energy investment total excludes hydro-electric projects of more than 50MW. However, for comparison, final investment decisions in large hydro are likely to have been worth $40-50 billion in 2017.
Breaking the investment total down by type of deal, the dominant category was asset finance of utility-scale renewable energy projects of more than 1MW. This was $216.1 billion in 2017, up fractionally on the previous year. Small-scale projects of less than 1MW (effectively small solar systems) attracted $49.4 billion, up 15 percent – thanks in large part to the installation rush in China.
Equity-raising by specialist clean energy companies on public markets totaled $8.7 billion in 2017, down 26 percent. The biggest transactions in this category were a $978 million convertible issue by electric car maker Tesla, and a $545 million placement by Guodian Nanjing Automation, a Chinese technology supplier to generating and transmission plants.
Venture capital and private equity investment in clean energy came to $4.1 billion in 2017, down 38 percent on the previous year and the lowest figure since 2005. The biggest deals were a $400 million Series A round for Microvast Power System, a Chinese maker of electric vehicle technology, and a $155 million expansion capital round for Greenko Energy Holdings, an Indian wind project developer.
Asset finance of energy-smart technologies was $21.6 billion, up 36 percent thanks to increased installation of smart meters and lithium-ion batteries for energy storage. Corporate research and development into clean energy rose 11 percent to $22.1 billion, and government R&D was almost level at $14.5 billion.
Source: BNEF
editor@greentechlead.com