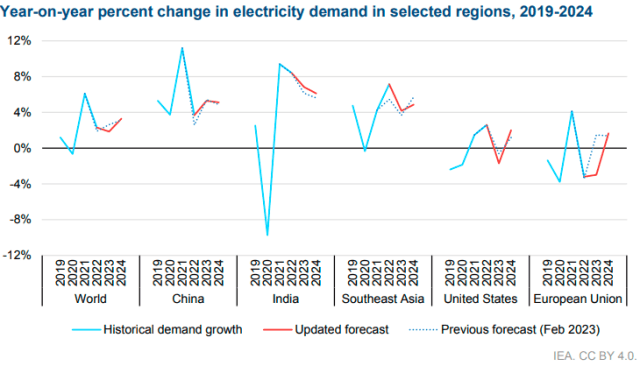 The International Energy Agency (IEA) has released its latest Electricity Market Report, forecasting a moderation in worldwide electricity demand growth for 2023. The report highlights the impact of the ongoing global energy crisis and economic slowdown on advanced economies, leading to a decline in electricity demand in key regions.
According to the report's July update, the United States is expected to see a nearly 2 percent decrease in electricity demand this year, while Japan's demand is forecasted to fall by 3 percent. In the European Union, electricity demand is set to decline by 3 percent, matching the drop experienced in 2022. This cumulative slump in demand represents the EU's largest decrease on record, bringing consumption levels back to those seen in 2002.
Consequently, global electricity demand is anticipated to increase by slightly less than 2 percent in 2023, down from the 2.3 percent growth recorded in 2022. However, with an anticipated improvement in the world economic outlook, demand growth is projected to rebound to 3.3 percent in 2024, according to the IEA's latest projections.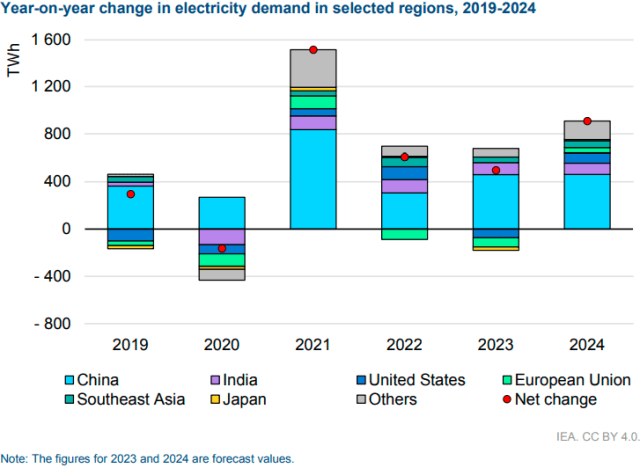 Despite the challenges posed by the energy crisis and economic headwinds, the report notes that the electrification of energy systems, increased use of indoor cooling, and robust demand in emerging and developing economies are still broadly supporting rising global electricity demand. China's demand is expected to grow at an annual average rate of 5.2 percent over the next two years, while India's demand is estimated to increase by 6.5 percent, surpassing its 2015-19 average.
Renewables are playing a crucial role in meeting the additional growth in global electricity demand. The strong deployment of renewable energy sources worldwide indicates that by 2024, their share in global electricity generation will exceed one-third. Depending on weather conditions, 2024 could be the first year in which more electricity is generated from renewables than from coal.
Conversely, electricity generated from fossil fuels is anticipated to decline over the next two years. Coal-fired generation is set to slightly decrease in 2023 and 2024 after experiencing a 1.7 percent rise in 2022. Meanwhile, electricity generated from oil is projected to witness a significant decline.
Keisuke Sadamori, the IEA's Director for Energy Markets and Security, emphasized the urgency for policymakers and the private sector to capitalize on the momentum of renewable energy growth to ensure sustained decline in power sector emissions.
The report also highlights the EU's declining electricity demand, particularly in energy-intensive industries that are yet to recover from the production slump experienced in the previous year. It is estimated that nearly two-thirds of the net reduction in EU electricity demand in 2022 resulted from these industries grappling with elevated energy prices following Russia's invasion of Ukraine. This trend has persisted into 2023, despite prices for energy commodities and electricity decreasing from previous highs.
The IEA concludes that the world is rapidly approaching a tipping point where electricity generation from fossil fuels will increasingly be replaced by clean energy sources. The energy transition is taking hold, and annual declines in fossil-fired generation are now more common, signifying a shift towards cleaner electricity generation.
As the global energy landscape continues to evolve, stakeholders must work together to address challenges and seize opportunities to drive sustainable energy solutions and reduce emissions from the power sector.