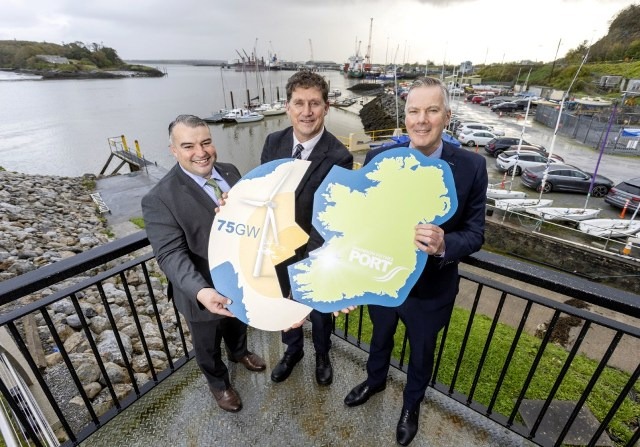 Potential electricity generation from the renewable energy resource of Ireland's west coast winds can deliver 30 gigawatts of floating offshore wind by 2050 – six times more than the existing domestic demand, Bechtel said.
Bechtel's review of the Shannon Foynes Port Company's Vision 2041 masterplan said the Shannon Estuary in Ireland is best placed in Ireland and Europe to develop the Atlantic floating offshore wind industry and help the country reach its climate goals.
Ireland's Minister for the Environment, Climate and Communications Eamon Ryan, TD, revealed the report. It said development of the Shannon Foynes Port would play a vital role in helping Ireland meet its net zero obligations by 2050.
It would contribute significantly to Europe's efforts, through its REPowerEU plan, to unwind its dependence on Russian fossil fuel imports and accelerate the expansion of renewables.
Significantly, this energy would also kick-start a new industrial ecosystem based on the production of carbon-free green electricity, hydrogen and derivatives, which will be transformational for Ireland by way of use for domestic electricity and e-fuels, electricity exports, and e-fuels exports.
At peak, up to 120 floating turbines would be installed offshore per year. The economic impacts would also be far reaching with thousands of jobs created and billions of euros invested in supply chain and route-to-market infrastructure and facilities around the region.
The report recommends the establishment of four core facilities on the Shannon Estuary to support the delivery of floating offshore wind at scale:
Turbine integration and pre-commissioning at Foynes Deepwater Port;
Substructure assembly at Moneypoint;
Wet storage at various locations within the Estuary;
Operations & Maintenance base at the Port of Foynes.
Minister Ryan said: "Developing offshore renewable energy is integral to Ireland's energy independence and achieving Ireland's Climate Change ambitions with a target of 5GW of offshore wind by 2030, a further 2 GW for hydrogen production by 2030, and the potential of at least 30GW of floating offshore wind power as set out in the Program for Government and the Climate Action Plan 2021."
IMAGE: Ireland's Minister for the Environment, Climate and Communications Eamon Ryan, TD, with Bechtel's Paul Deane (far left) and Pat Keating, CEO of Shannon Foynes Port (far right)