China has achieved 64 percent growth in solar exports, reaching $52 billion in 2022, despite global trade tensions, according to the latest analysis from Wood Mackenzie.
The dominant export category for China was solar modules, with Europe maintaining its position as the leading market, accounting for 56 percent of China's solar module exports.
As the global photovoltaic (PV) market expanded, solar cells saw growth of over 100 percent. China's solar cell exports found a substantial market share in Southeast Asia, amounting to 31 percent. The imposition of US tariffs on Chinese-made modules has led to a shift in module production to Southeast Asia, where many manufacturing facilities import cells from China.
In 2022, Chinese modules maintained their cost competitiveness against other markets, offering prices up to 57 percent lower than those of US and EU produced modules. This significant price difference can primarily be attributed to lower material costs in China, resulting from advantages such as low energy costs, economies of scale, and government support. On the other hand, solar module manufacturing in the US and EU is unable to compete without subsidies.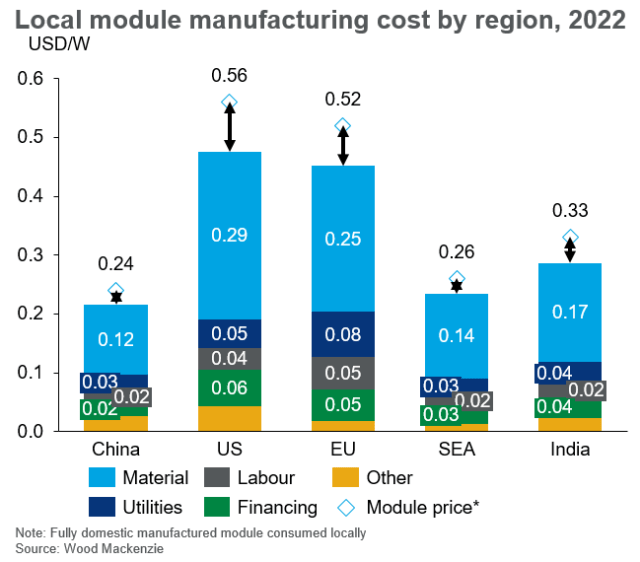 In addition to meeting domestic supply demands, China's export capacity for upstream wafers and cells is projected to exceed 230 GW by 2026, more than sufficient to meet the global market demand outside of China, which is expected to reach 170 GW by that year. China's PV industry is highly profitable and is reinvesting its profits to expand domestic capacity while also attracting new investors.
The available module capacity for export in China is anticipated to increase to 149 GW by 2026, leaving some room for other markets to expand their module production. More manufacturers are investing in the upstream sectors, which prove to be more profitable than module production.
Alex Whitworth, research director at Wood Mackenzie, stated that the US is relying on the IRA (Investment Tax Credit) to allocate a minimum of US$41 billion to stimulate domestic manufacturing. However, the cost dynamics still favor imported modules, and despite the growth of local module production in the coming years, the US will continue to depend on imports of components from Asia.
The US government's goal of achieving 100 percent domestically produced modules by 2026 is challenging due to the significant lack of wafer and cell production within the region. Incentives alone cannot bridge the manufacturing cost gap between US-made modules and Chinese ones.
Southeast Asia has reaped the benefits of the US's targeted PV trade policies toward China, as module production has shifted to the region. Chinese manufacturers currently account for 55 percent of Southeast Asia's PV manufacturing capacity, which relies heavily on components produced in China.