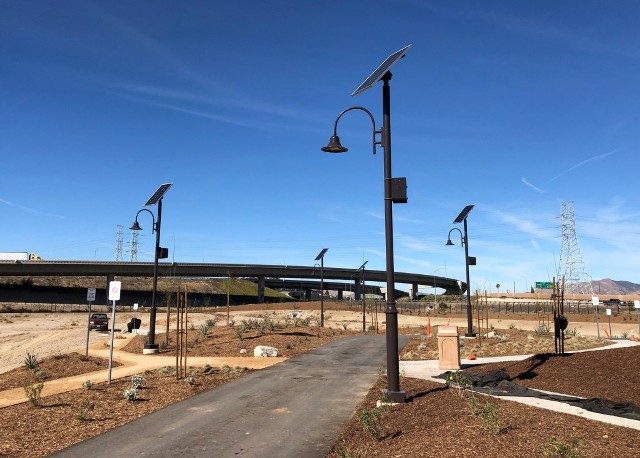 The increase in energy demands,the continual rise in electricity costs, and environmental concerns have prompted federal and state governments to recommend replacing of old street lighting systems withoutdoor solar street lighting.
What is solar street lighting?
Solar Street lights are light sources on the road or in parking lots powered by photovoltaic panels that are mounted on the lighting structures. The batteries are charged by sunlight absorbed into photovoltaic panels, which then provide electric power to LED lamps.
The growth in outdoor solar lighting
According to market research analysts, the global solar lighting market will grow steadily, and by 2024 it is expected to reach USD 10.8 billion doubled the l5.2 billion level of 2019. The market for solar outdoor lighting is expected to reach 7.5 million USD in 2023 from 2.9 million USD in 2017.
The Light Emitting Diode (LED) segment now dominates the solar lighting system market due to LEDS' increased lifespan, zero UV emissions, and minimal operational costs. LEDs are compact and durable, having a life span of as much as 50,000 hours. That is 30 times longer than incandescent bulbs and five times longer than CFLs.LEDs are more durable than other outdoor lighting types as they are resistant to vibrations, external impacts ,and shockand can withstand harsh conditions.
The growing demand for clean and renewable energy, and increased need for energy-efficient solar lighting systems for highways, and the penetration and decreasing cost of LEDs are some of the significant drivers for outdoor solar lights.
Advantages of solar street lighting
Solar street lighting has more advantages when compared to the traditional methods of street lighting. The following benefits make it an easier option to opt for solar street lighting instead of Grid-Power LED Street Lights.
Cost-effective
Solar street lighting is cost-effective in the long run. You are entirely off-the-grid, so no energy costs whatsoever during the life span of your outdoor solar lighting system.
Environmentally friendly
All non-renewable sources of energy such as petroleum, coal, and natural gas involve products made up of carbon. On combustion, it emits carbon dioxide, which causes pollution. An increase in pollution leads to several health hazards. Solar energy is infinitely renewable because it comes from the sun. It causes zero pollution.
Simple to install and safe
Solar street lighting is very simple to assemble and does not involve dangling wires making it extremely safe. Batteries charged directly by the sun eliminate the need for digging, trenching, or wiring, as would be the case with traditional electric lighting.  No wiring, no outside plug sockets. Merely a highly efficient lighting source posing no threat to young children, pets,or other wildlife in the surrounding area.
Better quality of lighting
Solar street LED lighting produces a superior quality of light and ensures better visibility on the roads. Solar lights are incredibly energy efficient, requiring a minimum amount of charge to produce a bright white light capable of illuminating even the darkest  aths.
Low maintenance and works with greater efficiency
Solar street lighting has a low maintenance cost because very little is required to maintain them. The battery charges automatically during daylight hours and then powers the lights starting at dusk. There is no need to monitor cables, sockets, and the like for wear and tear or damage.  As long as you inspect the PV panels for damage and clean the panels a few times a year, your lights could last for ten years without replacements.
Numerous Applications for outdoor solar street lighting
Dramatic cost reduction coupled with advances in hardware and software in all main components of the solar lighting system makes outdoor solar lighting suitable for several applications.
Highways and roadways
There is a strong need to illuminate the highways and roadways to provide a safe environment for driving. Having solar lights installed alongside the highways and roads can reduce the risk of accidents. This lighting solution is not only cost-effective but also independent of the need for connection to the power grid.
Commercial and Industrial areas
Industrial and commercial areas are usually more significant in size and filled with visitors and workers throughout the days and nights. Industrial and commercial businesses can use a solar lighting systemto provide an uninterrupted source of security lighting in their parking areas. Solar lighting systems can deliver continuous illumination for several days because of the exceptional storage capacities.
Remote work sites
A lot of work is done on remote work sites far away from urban areas. Some examples include mining, petroleum explorations, etc., There is always a need for a constant source of electricity to keep the space illuminated for workers. Having a portable outdoor solar lightssystem can be a cheap and reliable source of electricity.
Community Streets
Illuminating the community street areas for safety and security is one of the priorities of community management. These solar lights are the perfect choice as they do not require any wiring and can easily be installed alongside the pathways and open spaces. Additionally, these lights can automatically turn on when it senses any motion and can operate during cloudy weather conditions.
Airports
Airports are one of those areas which need an uninterrupted and reliable source of lighting for operations. Many airports are already equipped with solar lights because they are reliable, cheap, and require less maintenance throughout their life cycle. Airports can install theseLED lights on the runways and parking lots in the airports.
Public Parking and Playgrounds
Lighting is needed in the parking areas and inside playgrounds to keep the space illuminated for safety and security reasons. As the system is independent of the grid, it can be installed anywhere in the playground and parking areas where there is a need for proper lighting. These days the spectators prefer to watch matches that are happening during nighttime because of various reasons. Solar lights can provide high power lighting inside the field at low cost and minimal maintenance.
Camping and Recreational areas
Camping areas and hiking tracks, which are human-made and built-in remote locations, are an excellent location for nature lovers. Since these trails are mostly away from urban areas and have no access to grid stations, a solar lighting system is the only suitable choice. Having a lighting system also helps get tourists' attention and can increase the inflow of people.
Greenshine's expert team has more than thirty years of combined experience developing outdoor solar lighting solutions. Let us help you choose the best design for your project.