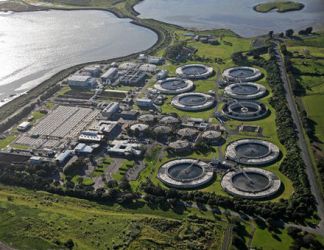 Greentech Lead America: The Ontario Clean
Technology Alliance has announced a $60 million Southern Ontario
Water Consortium (SOWC) that supports innovation across Ontario Clean
Technology Alliance.
The announcement was made at the WEFTEC 2012, the Water Environment
Federation's Annual Technical Exhibition and Conference.
SOWC has already attracted $20 million of technology
investment from IBM Canada Limited together with additional investment
from the private sector, government, and universities.
SOWC is a research and development platform for new water
technologies and facilities for the testing and development of drinking water
solutions, wastewater purification, ecotoxicological analysis, watershed
management, and sensor development.
Ontario's water industry, with 900 firms and 22,000
employees, includes well-known global players such as American Water, Danaher,
GE Water and Process Technologies, Nalco Corporation, Siemens Water
Technologies, Suez Degremont and Veolia Water.
Global water management problems represent a market
opportunity currently estimated at $424 billion (USD). Ontario's water industry
is primed to be among the best solution-providers for this market.
The SOWC platform includes a series of facilities within
the Grand River watershed, the Mimico Creek sub-watershed near Toronto, the
City of London Greenway Wastewater Treatment Centre, the City of Guelph Waste
Water Treatment Centre, the Sensor Development Labs at McMaster University,
Drinking Water Treatment Labs at the Universities of Toronto and Waterloo,
ecotoxicological labs and staging facilities at Laurier, and the Ground Water
Research Facilities at Base Borden and the University of Guelph.
To be fully operational by 2014, the platform will be
open to companies interested in testing technologies in a real watershed or
municipal environment, companies looking for collaborative R&D with leading
water researchers from eight universities, and international companies looking
for a North American beachhead.
A variety of mobile facilities will also be deployed as
needed across these watersheds, and all operations are being linked together by
IBM's computational and data facility installed at the University of Toronto to
process, analyze, store, and distribute the data produced across the SOWC
platform.
"We are looking for more companies that want to grow with
us in Ontario," says Jennifer Patterson, senior business development
consultant, Hamilton Economic Development and Chair of the Ontario Clean
Technology Alliance. "We want to be the place where the world buys its water
management technology."
"The Ontario government has adopted an economic growth
strategy, backed by a comprehensive series of legislative, regulatory and
policy initiatives that is designed specifically to support the expansion of
clean, green industries including water," Patterson added.
The United States is Ontario's number one trade partner
and the largest water consumer in the world. Water and wastewater treatment in
the United States is a $113 billion annual market, according to estimates
developed by Global Water Intelligence.