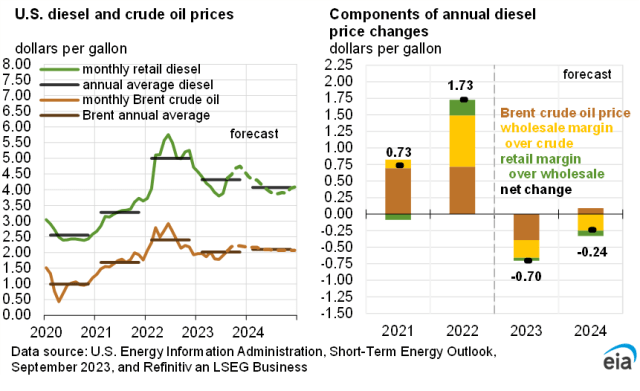 In its latest Short-Term Energy Outlook (STEO), the U.S. Energy Information Administration (EIA) has predicted a substantial decrease in global oil inventories during the second half of 2023, causing oil prices to surge in the remaining months of the year. This forecast has been attributed to various factors, including oil production cuts by OPEC+ members and the extension of voluntary production cuts by Saudi Arabia.
The EIA's September STEO foresees the average price of Brent crude oil reaching $93 per barrel in the fourth quarter of 2023, surpassing its previous August projection of less than $88 per barrel. The decline in global oil inventories is anticipated to be a result of the production cuts initiated by OPEC+ members, with Saudi Arabia recently announcing an extension of its voluntary production cuts.
EIA Administrator Joe DeCarolis stated, "We expect crude oil prices to rise as global oil inventories decrease through the end of this year." However, he also cautioned that the combination of high oil prices and economic uncertainty could potentially lead to a reduction in global demand for petroleum products through 2024.
Despite OPEC+ continuing to limit oil production, the EIA predicts that global production of liquid fuels will continue to rise in both 2023 and 2024, primarily due to production growth in non-OPEC+ countries.
Other Highlights from the September STEO:
Electricity: The EIA has estimated that natural gas consumption for electricity generation reached a record high during the summer of 2023, surpassing the previous record set in 2022. This surge in natural gas consumption was driven by increased demand for air conditioning, especially in densely populated areas like Texas, Florida, and Southern California.
Gasoline: The EIA expects the average price of regular-grade gasoline in the United States to be $3.69 per gallon in the fourth quarter of 2023, up from its August forecast of $3.57 per gallon. This revision is primarily attributed to higher crude oil prices, which are a significant component of gasoline prices. Additionally, the EIA lowered its forecast for domestic gasoline consumption due to a revision in U.S. population estimates by the U.S. Census Bureau, resulting in reduced estimates of the miles driven by U.S. motorists. The EIA now anticipates U.S. gasoline consumption to average 8.9 million barrels per day in 2023, slightly lower than its previous August forecast.
Propane: EIA expects propane prices at Mt. Belvieu to average 77 cents per gallon during the upcoming winter heating season, spanning from October 2023 through March 2024. This forecast represents a slight decrease from the average of 81 cents per gallon observed in the previous heating season. A more comprehensive Winter Fuels Outlook, which will include forecasts for heating fuel prices, consumption, and average household fuel and energy expenditures for the upcoming heating season, is set to be published by the EIA on October 11, 2023.