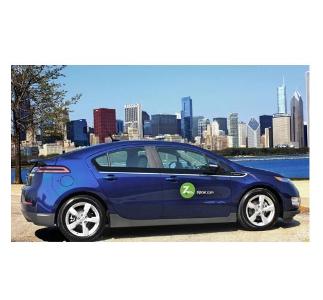 Greentech Lead America: Zipcar (ZIP), a car sharing
network, has launched the company's electric vehicle (EV) pilot program in
Chicago.
The company said five Chevrolet Volts are available to
members by the hour, with up to 20 additional EVs to be added into the Chicago
fleet during the course of 2012.
The Zipcar EVs will be placed in pods located throughout
the city, including locations on the University of Illinois at Chicago campus,
as well as in the Loop, South Loop, River North, Gold Coast, Streeterville,
Lincoln Park, and Albany Park.
Zipcar is working with a number of partners on this
program, including 350Green, which is installing the EV charging stations where
the Zipcar EVs will be located. Other partners include the Chicago
Transit Authority (CTA), Tishman Speyer, LAZ Parking and Cityfront Place
Apartments, all of which are providing locations for the Zipcar EVs and
charging stations in commercial and residential buildings, private parking lots
and along the CTA rail system.
The first EVs to join the Zipcar Chicago fleet are five
Chevrolet Volts, which are available at Cityfront Place Apartments 400 N.
McClurg Ct. and 260 E. Chestnut St. in Streeterville, 210 N. Wells St. in the
Loop, and in University Village at the University of Illinois-Chicago at 915 S.
Paulina St. and 701 W. Maxwell St. These vehicles are available for
reservation by Zipcar members starting from just $10 per hour.
The Chevrolet Volt can travel gas-free up to an
EPA-estimated 35 miles, after which it shifts a gas generator which produces
electricity to keep it going an additional 375 miles on a full tank of gas.
Because many trips taken by Zipcar members are fewer than 35 miles, these trips
taken in the Volts will be powered solely by electricity rather than fuel.
"We are looking forward to providing our Chicago Zipsters
with increased opportunities to reduce their environmental impact and drive
some of the most technologically-advanced vehicles on the road as we roll out
this EV program over the coming months," said Charles Stephens, general
manager, Zipcar Chicago.
Zipcar is working with the City of Chicago and the
Chicago Area Clean Cities Coalition to launch the EV program in support of the
Chicago Climate Action Plan. Over the course of 2012, the City of Chicago
is installing hundreds of electric vehicle charging stations for public use to
help expand the EV infrastructure throughout the city.
To help introduce the new Chevrolet Volt EVs to Chicago
Zipsters, Zipcar will hold an event on Saturday, March 31 where Chicago-area
Zipcar members are invited to check out the new Volt vehicles and Zipcar
members can take them for a test spin. The event will take place from 10am to
1pm at one of Zipcar's partner locations, Cityfront Place Apartments, located
at 400 N. McClurg Ct. in Chicago.
Zipcar has been a pioneer in using advanced vehicle
technologies, being the first car sharing company in the United States to
introduce electric vehicles into its fleet with the launch of Toyota RAV4 EVs
in Boston in 2002, and the first to offer hybrid vehicles in Seattle in 2003.