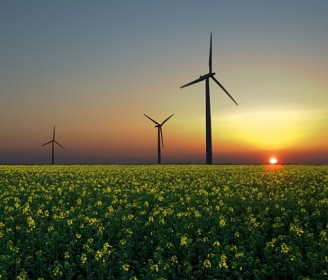 By Greentech Lead Team: The
Maharashtra state government, India, has decided to put its weight behind green
and environment-friendly industrial projects, and such projects will be given
preference in terms of expedited clearance and other non-financial benefits.
India is vulnerable to the
challenges of climate change with 65 percent areas being drought-prone, 12
percent being flood-prone and 8 percent under cyclone threat. The per capita
water availability is set to decrease from 1,820 cubic metre per year to 1,140
cubic meter.
The Union government will fund the
state based on the environment protection index constituted by the Planning
Commission. This will be subject to the state spending 2 percent of the funds
on environment related activities, said Valsa Nair Singh, Maharashtra state
environment secretary.
A press statement said the state
government has also taken initiatives, such as sponsoring PhDs and MPhil
candidates and disbursing funds to foster research in environment protection.
The CII has been driving several
initiatives in the area of green buildings and climate change. It has also
developed a code for ecologically sustainable business growth, which has drawn
voluntary commitment from 450 organisations, according to Leena Nair,
chairperson, CII Maharashtra state council and executive director – human
resources, Hindustan Unilever.
Naushad Forbes, chairman, CII
western region sub-committee on climate change and sustainability and director,
Forbes Marshall Private Ltd, said the CII and Indian Green Building Council are
working for the cause of reducing environmental impact of buildings.
He said in a bid to promote energy
efficiency and reduce industrial carbon emission levels, the government has
evolved a perform, achieve and trade regime designed by the National Mission
for Energy Efficiency. Under the scheme, BEE has set energy efficiency targets
for industrial units and issued them energy saving certificates against those
targets. Units that exceed targets for energy efficiency can sell the
certificates to units that fall short of targets. He stated that the energy
efficiency trading scheme that was currently being piloted in Gujarat should be
extended to other states.
S Raghupathy, executive director,
Confederation of Indian Industry said the CII has plans to promote green
technology all over the country and make India a global leader in green
buildings by 2015. Currently India, with 1.05 billion sq ft space of green
building, is second only to the U.S.