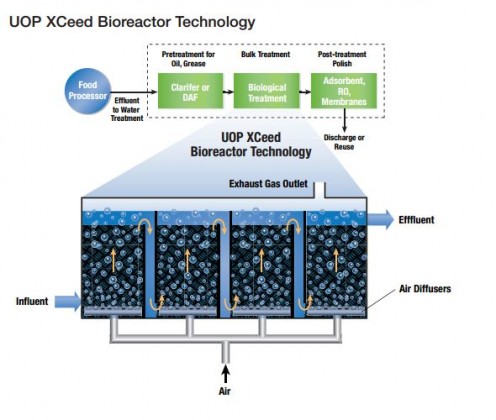 Honeywell UOP announced its modular XCeed bioreactor technology is selected to treat wastewater in a fruit and vegetables company.
The XCeed bioreactor technology will remove biological oxygen demand (BOD) from water that was used to clean and process fresh produce. The unit will treat roughly 150,000 gallons per day and return that water for reuse or for discharge, based on local discharge standards.
Honeywell UOP's XCeed bioreactor technology removes organic and inorganic contaminants to help industrial, manufacturing and groundwater remediation facilities meet contaminant removal specifications for wastewater reuse or discharge.
The modular technology was selected over other technologies due to its low sludge generation, greater energy efficiency and operational simplicity, Honeywell UOP said.
Ken Stacherski, vice president and general manager of Honeywell UOP's Catalysts, Adsorbents and Specialties business, said, "With more than 50 successful installations, the XCeed bioreactor system is a reliable and cost-effective solution for food and beverage companies, chemical and textile manufacturers, refinery and petrochemical facilities, and groundwater remediation to meet increasingly strict wastewater regulations and reuse requirements worldwide."
Honeywell UOP's expertise in bioreactor design, applied microbiology and process control makes possible extended biomass retention time, which improves the removal of organics and other targeted contaminants.
As a result, through multiple applications over the last 25 years, the XCeed system has been shown to produce as much as 80 percent less sludge, consumes up to half as much energy and requires less maintenance and operator supervision than conventional technologies.
Rajani Baburajan
editor@greentechlead.com