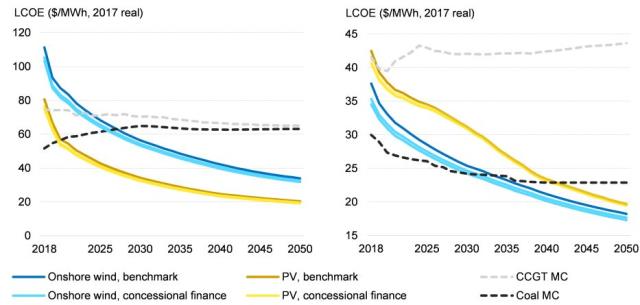 Concessional financing has the potential to speed up the transition from fossil-fuelled power generation to renewable energy in developing countries, according to a report  by BloombergNEF (BNEF).
Development finance institutions (DFIs) can lend concessional capital to projects in non-OECD countries at low interest rates. Pairing clean energy with affordable, flexible financing can make infrastructure like wind or solar power more cost-competitive, the report commissioned by the Clean Technology Fund (CTF), a program of the $8.3 billion Climate Investment Funds (CIF), said.
The report — Clean Technology Fund and Concessional Finance: Lessons Learned and Strategies Moving Forward — identified two critical points when clean energy becomes more viable than its fossil competitors.
Point 1
Developing markets will take 5-10 years to build cheaper clean energy facility as compared with a gas or coal plant. BNEF's analysis found that concessional finance can reduce this timeframe. In Thailand, concessional finance has the potential to reduce clean energy costs by five to seven percent.
Point 2
Countries need to replace sources like coal if building a new clean energy facility becomes cheaper than running an existing gas or coal plant.
India installed a coal-fired fleet one third the size of the United States' in five years. BNEF found that concessional finance could bring forward this tipping point for new wind plants by as many as four years.
The report found that there is potential for concessional finance to create markets for low-carbon technologies, in particular batteries. Reducing capital costs for a lithium-ion battery project by one percentage point can reduce energy generation costs by $10/MWh.
Luiza Demoro, lead author of the report, said with access to cheaper finance, many emerging countries would be able to kick-start their battery storage sectors and avoid capacity additions from fossil fuel-fired plants.
The report also looks at the impact of an approximately $750 million share of concessional funding from CTF across the following five countries: Chile, Kazakhstan, Mexico, Morocco and Thailand.