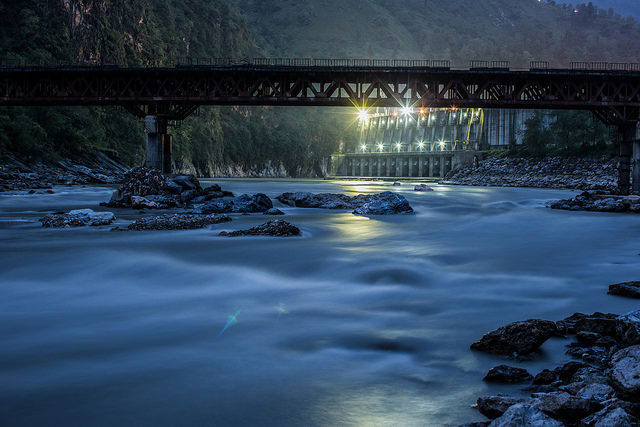 The temblor that struck Nepal on April 25 is believed to have crippled the hydropower generation capacity of the south Asian nation.
Nepal depends on hydroelectric power stations to meet 90 percent of its energy needs.
News reports indicate that the earthquake, which measured 7.9 on Richter scale, has damaged key hydropower facilities and associated infrastructure.
The 144-megawatt Kaligandaki hydropower station and the 22.1-megawatt Chilime hydropower plant are said to have been badly damaged by the earthquake.
Mukesh Khanal, an economist working with international development in Nepal, told Quartz India that the extent of damage the earthquake has wrought upon power generation in the country remains to be assessed in full.
According to Knanal, the hydropower plants "will have to be torn down and rebuilt, which means reduced electricity production for some years".
In all, Nepal has 600 MW of installed hydropower capacity under the Integrated Nepal Power System (INPS), Independent Power Producers' Association, Nepal (IPPAN) reports show.
Last year a landslide had knocked out 10 percent of the south Asian nation's power generation capacity. The country then sought investment in dams to harness hydel power from about 6,000 glacier-fed rivers that criss-cross it.
The move was expected to boost economic growth and end blackouts that often last for more than 12 hours a day in the Himalayan nation.
According to a World Bank report published early last year more than 1,000 micro-hydro plants had been built in 52 districts of the country.
"The initiative is meeting energy needs of rural communities, and powering their economic development, also serving as an example of how renewable, clean energy harnessed through community efforts can set the world on a path to a cleaner and more prosperous future," it was noted in the report.
The latest available estimate places the potential for hydel power in Nepal at "approximately 40,000 MW of economically feasible hydropower".
However, its huge hydropower potential notwithstanding, Nepal now faces an uphill task to get back on track even the limited resources that had existed before the quake struck.
It is perhaps a wake-up call for the nation to also diversify its investment basket and energy mix to include resources such as wind and solar energy.
While micro-hydro projects may help regions close to rivers, they are unlikely to help residents of lower elevations.
Grid expansion is prohibitively expensive in the mountainous nation. It is evidenced by the fact that only 11 percent of Nepal's 20 million people have access to electricity.
Preliminary studies conducted by Alternative Energy Promotion Centre had shown that Nepal had a wind generation capacity of 3,000 megawatts.
These can be a cheaper renewable option for small households, experts say. One key advantage wind projects hold over hydel- or solar-power projects in Nepal is that the turbines can be built locally. For other sources the country depends on imports.
Also, while Nepal receives sunshine for seven hours a day on average, wind blows for 18 hours a day. Winds are especially strong in the river corridors and mountain valleys that dot Nepal. And, the flow does not abate during winter.
While countries such as China and India compete to help rebuild the mountain nation, it would perhaps do more good if investment is directed toward infusing diversity in the energy mix of Nepal.
Ajith Kumar S
editor@greentechlead.com