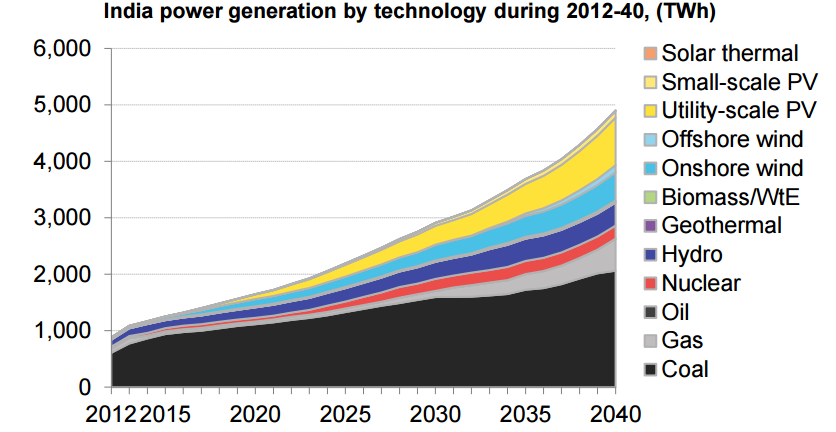 As COP21 came to an end after reaching an accord on carbon reduction among participating nations, a new report from Bloomberg Energy Finance revealed that India, one of the largest emitters of greenhouse gas, imported 174 Mt of thermal coal  during 2014-15.
This is the largest amount of thermal coal the country ever imported in its history, the report said.
While some of the industry watchers think this trend will continue others feel the country's growing focus towards renewable will reduce the growth rates of coal power production and hence coal demand.
The researchers at Bloomberg Energy Finance NEO 2015 are of the view that India will produce 75 percent more electricity from coal-fired generation in 2030 than in 2015, but at 3.6 percent compounded annual growth rate (CAGR) compared to 6.8 percent during FY04-14.
Moreover, improvements in thermal efficiency of India's coal-fired generation fleet will result in demand increasing only by 49 percent to 2030, the report said.
Coal currently dominates India's power generation capacity. A record 19.4GW of coal capacity was added in FY2015.
Further the government wants to obliterate thermal coal imports by 2017 by doubling production of Coal India by FY2020. Coal India already has a 80 percent market share. However this estimate sounds too far from reality, as Bloomberg predicts that India's imports are likely to peak this fiscal and in theory it can cease thermal coal imports in the year FY23 although some imports may continue at costal power plants.
Coal India has achieved an impressive rise in thermal coal production in FY2015 – 7.3 percent YoY and 8.9 percent in H1 of FY2016. Coal India, according to Bloomberg, is expected to retain a 7 percent yearly growth rate for domestic production. That implies that imports will peak this fiscal FY2016 and then continuously fall to eventually disappear in FY2023.
Indonesia is the biggest exporter of thermal coal to India, exporting 78% by volume and 72% by value in 2013-14.
Rajani Baburajan
editor@greentechlead.com