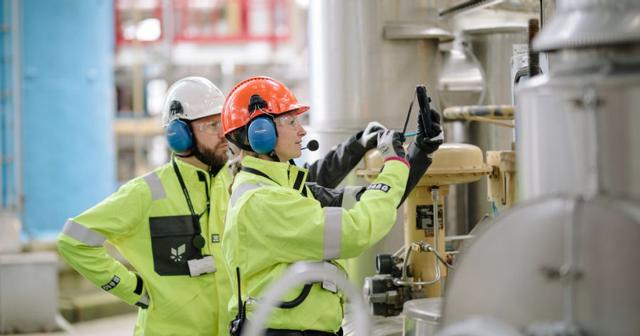 Equinor expects Capex of $10-11 billion in 2023, and plans an annual average Capex of around $13 billion for 2024-2026.
In 2023, Equinor expects a production growth of around 3 percent in oil and gas, compared to 2022.
Profitable and disciplined growth in renewables
Equinor started generating power from the world's largest floating wind farm Hywind Tampen in 2022. Equinor's largest offshore wind farm, Dogger Bank in the UK, will start production in 2023. The portfolio of projects within renewables and acreage is progressing well towards the ambition of 12-16 GW of installed capacity accessed by 2030. Equinor expects project base returns of 4-8  percent.
Production from renewable energy sources was 517 GWh in the quarter, down 2 percent from the same quarter in 2021. Including gas-to-power, total power production for the quarter ended at 1,332 GWh.
In 2022, Equinor was awarded the Smeaheia CO2 licence on the NCS and had in total accessed storage capacity of 30 million tons CO2 per year with current equity.
Equinor has posted a record $74.9 billion adjusted operating profit, more than doubling its previous high.
Equinor has reported net profit for the year of $28.7 billion, up from $8.6 billion a year earlier. Oil and gas majors such as ExxonMobil, Shell and BP in reporting record returns for 2022.
Majority state-owned Equinor became Europe's largest supplier of natural gas last year as Russia's Gazprom cut deliveries over the West's support for Ukraine, sending European gas prices to all-time highs.
Gas prices tumbled in 2023 and Equinor's Oslo-listed stocks have fallen 9 percent, underperforming a 3.3 percent rise in European petroleum stocks.
Equinor said its oil and gas production fell by 2 percent to 2.04 million barrels of oil equivalent per day (boed) in 2022, but it expected this to grow by 3 percent in 2023.
A senior executive said it is investigating the possibility of boosting output from Western Europe's largest oilfield, Johan Sverdrup, to 755,000 barrels per day (bpd) from 720,000 bpd.
Gas output from its Norwegian fields was up by 8 percent on a year earlier as the company focused on replacing lost Russian supplies to Europe, while oil output declined by 6 percent, it added.
Equinor's previous adjusted earnings record was $36.2 billion in 2008, when North Sea oil prices hit record highs.
The company, which makes most of its profit in Norway, where oil firms are subject to a tax rate of 78 percent, said it expected to pay a record $49.9 billion in taxes for 2022.