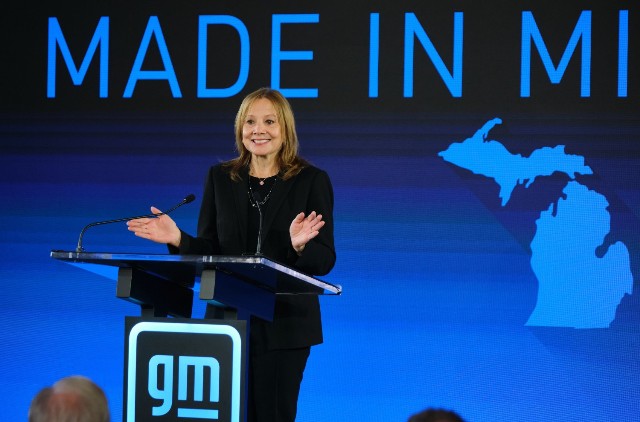 General Motors announced an agreement with EV leader Tesla for adopting Tesla's North American charging plug standard and give GM electric-vehicle buyers access to 12,000 plus Tesla Supercharger network.
Ford CEO Jim Farley earlier announced a deal to use Tesla's charging plug standard. This means three of the top EV sellers in the North American market have now agreed on a standard for charging hardware.
The agreement was announced by GM CEO Mary Barra and Tesla chief Elon Musk in a Twitter Spaces event.
The Joe Biden administration made adoption of a rival "combined charging system" (CCS) standard a requirement in order for companies to be eligible for billions of dollars of federal subsidies for new charging stations on some 7,500 miles (12,070 km) of the nation's busiest roadways. The alliance among Tesla, Ford and GM challenges the White House's direction.
Transportation Secretary Pete Buttigieg told CNBC in May after the Ford-Tesla deal that the industry will eventually converge on one system but that adapters would allow cross- usage.
Tesla, GM and Ford together account for about 70 percent of current U.S. EV sales. Industry executives see differing EV charging connectors as a barrier to wider consumer adoption of electric vehicles.
GM could save $400 million from the agreement, Mary Barra told CNBC in an interview Thursday.
Tesla Superchargers account for about 60 percent of the total fast chargers in the United States and Canada, according to U.S. Department of Energy data.
The alliance among Tesla, GM and Ford puts pressure on other automakers and independent charging network operators that had adopted the CCS standard. A U.S. move to Tesla's standard could be difficult for rival charging station manufacturers that are already setting up shop in the United States to make equipment that conforms to CCS standards.
Next year, current owners of GM EVs will be able to use 12,000 Tesla fast chargers in North America, and they need adapters. GM said it will equip EVs with connectors based on the Tesla North American Charging Standard design starting in 2025 without an adapter.
GM is working with others in the industry to accelerate the installation of charging as part of its Ultium Charge 360 initiative. This includes collaborations with Pilot Company and EVgo that will add more than 5,000 DC fast chargers to the nearly 13,000 existing DC fast chargers in North America, as well as the deployment of community chargers throughout the U.S. and Canada.
Ford, the No. 2 U.S. automaker, had reached agreement with Tesla to allow its electric vehicle owners to gain access to more than 12,000 Tesla Superchargers in North America in early 2024.