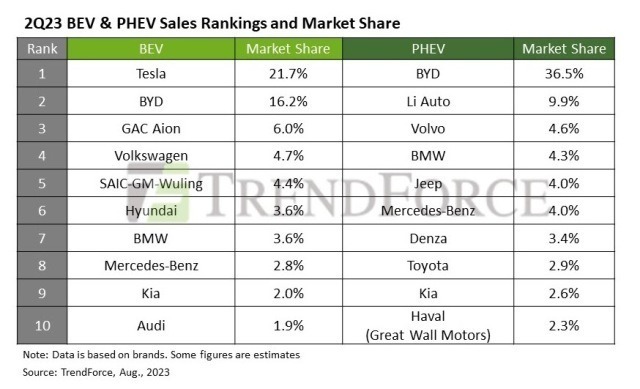 The global electric vehicle (EV) market is undergoing a significant transformation, and recent data from TrendForce indicates that BYD is inching closer to Tesla in terms of battery electric vehicle (BEV) sales during the second quarter of 2023.
This quarter has seen notable growth not only in traditional EV strongholds like China, Western Europe, and the US but also in emerging markets such as Thailand and Australia.
In the first half of 2023, total new energy vehicle (NEV) sales, which encompass BEVs, plug-in hybrid electric vehicles (PHEVs), and fuel cell electric vehicles (FCEVs), surged to an impressive 5.462 million units. This reflects a remarkable year-over-year growth rate of 33.6 percent.
The trend continued strongly into the second quarter, with sales reaching 3.03 million units, a remarkable 42.8 percent increase from the previous year. These Q2 sales accounted for 14.4 percent of total car sales in the same period, underscoring the growing importance of NEVs in the automotive industry.
The standout performer in Q2 was the BEV segment, which alone achieved sales of 2.151 million units, marking an impressive 39.3 percent growth compared to the previous year. While Tesla still leads the pack with a substantial market share of 21.7 percent, Chinese automaker BYD has made significant strides, closely trailing with an expanded market share of 16.2 percent.
GAC Aion, another Chinese brand known for its value-driven offerings, secured the third position with a 6 percent market share. The top 10 BEV brands in Q2 remained largely consistent with the previous quarter, although there were some minor shifts in rankings. Notably, fewer Chinese brands featured on the list compared to the same period in 2022, indicating a growing competitive landscape with the entry of traditional automakers into the EV market.
PHEVs also witnessed an impressive surge, with sales totaling 876,000 units in Q2, reflecting a substantial 52.9 percent YoY increase. A significant portion of these sales, approximately 66 percent, originated from the Chinese market. Within this segment, BYD continued its dominance, holding a commanding 36.5 percent market share. Its subsidiary Denza, focusing on high-end PHEVs, achieved a 3.4 percent market share and climbed to seventh place in the rankings.
Another brand that drew attention was Li Auto, setting a new Q2 record with 87,000 units sold and maintaining a secure second-place position with a 10 percent market share. Internationally, both Volvo and Jeep showcased growth over the previous year, with Jeep's sales crossing the 30,000 mark, propelling them into the top five for the first time.
While established markets like China, Western Europe, and the US continue to dominate NEV sales, the emergence of Thailand and Australia as key players in 2023 cannot be ignored. Both nations have seen remarkable growth, surpassing 35,000 units in sales during the first half of the year. Thailand notably quadrupled its 2022 figures, while Australia experienced an astounding fivefold increase.
Although these figures might appear modest when compared to global sales, they signify the immense potential of these markets. Recognizing this promising trajectory, major automotive brands are strategically devising plans to expand their presence in these burgeoning regions, ensuring they capitalize on the growing appetite for electric vehicles.