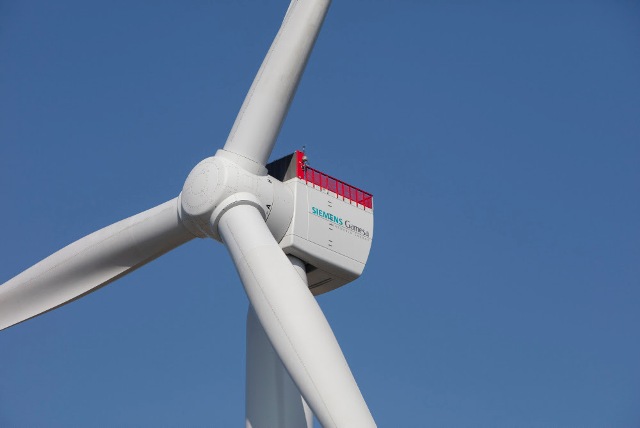 Turbine maker Siemens Gamesa has started producing recyclable offshore wind turbine blades for commercial use.
Wind turbine blades are generally large and non-recyclable and at the end of their service end up in huge landfills that have started attracting environmentalists' attention.
Rival Vestas in May unveiled technology enabling wind turbine blades to be fully recycled. Siemens Gamesa claimed in its statement on Tuesday that it was the first company to produce recyclable blades.
Wind turbine blades are made with resins that tie together their different materials. Siemens Gamesa, which produces blades up to 125 metres long, uses a resin with a special chemical structure that allows it to separate the other materials, which can then be reused, it said.
The unit of Siemens Energy said it already reached agreements to sell recyclable blades to three utilities Germany's RWE, France's EDF and Britain's Western Power Distribution.
Siemens Gamesa has already tied up with RWE to install and monitor the world's first wind turbines with recyclable blades in Germany at the Kaskasi offshore wind power plant. Current plans are for the project to be producing energy from 2022 onwards.
"Kaskasi installs the world's first recyclable wind turbine blade manufactured by Siemens Gamesa. This is a significant step in advancing the sustainability of wind turbines to the next level," Sven Utermohlen, CEO Wind Offshore, RWE Renewables, said.
Siemens Gamesa is working with EDF Renewables with the aim to deploy several sets of RecyclableBlade at a future offshore wind farm.
"EDF Renewables' team is fully mobilized to develop this pioneer technology with its suppliers with the aim to continuously improve the environmental sustainability of our projects," said Bruno Bensasson, Chairman and Chief Executive Officer of EDF Renewables.
Siemens Gamesa is working with wpd to install sets of the RecyclableBlade at one of their future offshore wind power plants.
Through this cooperation in the recycling technology program of Siemens Gamesa, we're making another step forward for the industry, which makes us enthusiastic regarding sustainability of the supply chain in the future," Achim Berge Olsen, CEO of wpd offshore, said.