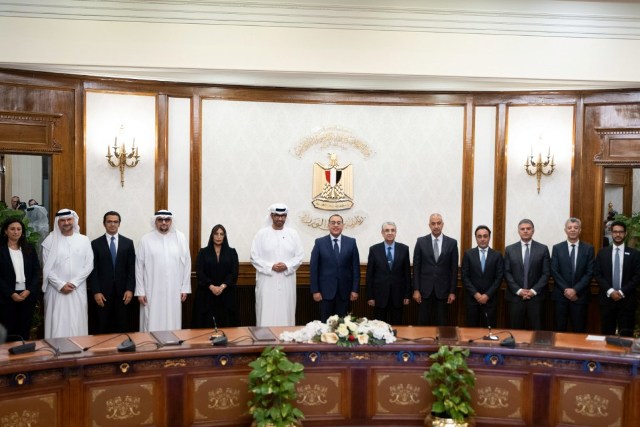 Abu Dhabi Future Energy Company – Masdar, a clean energy firm, has partnered with Infinity Power, a renewable energy developer in Africa, and Hassan Allam Utilities, an investment platform focused on sustainable infrastructure.
Together, they have signed an agreement with Egypt's New and Renewable Energy Authority to acquire land for the construction of a massive 10-gigawatt (GW) capacity onshore wind farm in Egypt.
The project, valued at over $10 billion, was announced during a signing ceremony in Cairo, attended by several prominent figures including the Egyptian Prime Minister, Moustafa Madbouly, and Sultan Al Jaber, the UAE Minister of Industry and Advanced Technology.
The wind farm is expected to generate an impressive 47,790 GWh of clean energy annually, significantly reducing Egypt's carbon emissions by displacing approximately 23.8 million tonnes of carbon dioxide each year. This development aligns with Egypt's goal of sourcing 42 percent of its energy from renewable sources by 2030. Moreover, the 10 GW plant is projected to save the country an estimated $5 billion in annual natural gas costs.
The initial agreement to establish the 10 GW wind farm was signed between Masdar, Hassan Allam Utilities, Infinity Power, and the Egyptian Electricity Transmission Company. The signing took place last year on the sidelines of the UN climate change conference, COP27, in Sharm El Sheikh, Egypt, and was witnessed by the presidents of the UAE and Egypt. The project is led by a consortium headed by Masdar, in collaboration with partners Infinity Power and Hassan Allam Utilities.
Masdar has demonstrated its commitment to the African continent by becoming the largest operator of renewables in Africa through its joint venture with Egypt's Infinity Power, which acquired Lekela Power, a renowned renewables developer with operations across Africa. Furthermore, Masdar has signed agreements to develop renewable energy projects with a combined capacity of up to 5 GW in Angola, Uganda, and Zambia. This highlights Masdar's dedication to supporting African nations in their transition to sustainable energy sources.
Additionally, during COP27, Masdar, Infinity Power, and Hassan Allam Utilities entered into agreements with Egyptian state-backed organizations to develop facilities for green hydrogen and its derivatives' production. The consortium has set an ambitious target of reaching a capacity of 4 GW by 2030, with an annual output of up to 480,000 tonnes of green hydrogen.