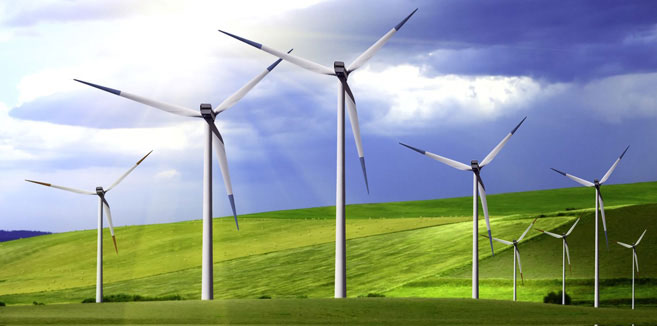 Inox Wind has entered into a Rs. 4,500 crore preliminary pact with government of Gujarat for establishing 700 MW wind energy projects in the state.
The company plans to implement the MoU in Rajkot, Amreli and Kutch districts of Gujarat over next 2 years.
In addition, INOX is commissioning around 500 MW wind capacity in Rajkot and Surendranagar.
The firm has started the process of acquiring access to suitable wind sites for the installation of an aggregate capacity of at least 4,052 MW as of December 31, 2014.
The total state-wise breakup that includes Project Sites and Wind sites under acquisition are Rajasthan (2,609 MW), Gujarat (484 MW), Madhya Pradesh (919 MW) and Andhra Pradesh (40 MW).
The company is also setting up an integrated wind turbine manufacturing facility in Madhya Pradesh. The plant will be set up with an investment of over Rs 300 crore.
In another development, Green Infra has awarded 166 MW of turbine supply contract to Inox Wind for various projects in Gujarat, Madhya Pradesh and Rajasthan.
Inox will develop and construct the projects on a turnkey basis, supply 83 units of 2 mw wind turbine generators and undertake long-term operations and maintenance.
Recently, Tata Power Renewable Energy (TPREL) has awarded two wind-farm projects worth a total of 172 MW to Inox for developing 4 MW and 118 MW of wind farms in Gujarat and Rajasthan.
In another initiative, AMSC has received a $15m contract from Inox Wind to supply 2MW wind turbine electrical control systems (ECS) through fiscal year 2015.
Inox had received 1,258 MW of wind project orders as of December 31.
Inox's customers in India also include Continuum Wind Energy, Welspun Energy, Bhilwara Energy, ReNew Power Ventures, Hero Future Energies and a subsidiary of CESC.
Started around five years ago, the company now operates various wind projects in five states namely Gujarat, Rajasthan, Madhya Pradesh, Maharashtra and Andhra Pradesh.
Inox Wind is a fully integrated player in the wind energy market with blades and towers manufacturing plants near Ahmedabad and hubs and nacelles plant at Himachal Pradesh.
With around 400 MW of projects in progressing or completed stage, INOX Wind is the largest developer in the state.
Sabeena Wahid
editor@greentechlead.com