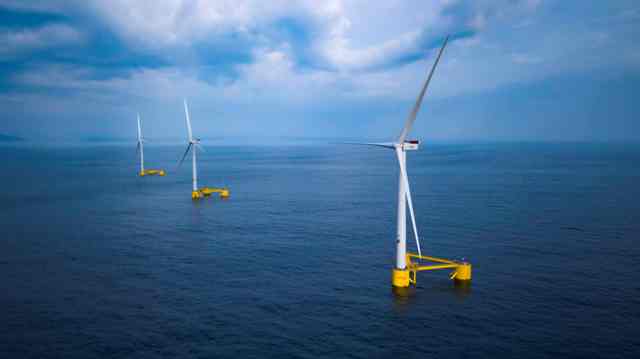 Export Finance Norway (Eksfin), a state-backed export credit agency, is intensifying its involvement in the global offshore wind sector by offering loan guarantee financing to Spanish energy giant Iberdrola. This strategic move supports Norwegian exporters' engagement in the East Anglia Three wind park project in the United Kingdom.
Iberdrola, a prominent player in the offshore wind industry, recently secured a EUR 500 million green loan to fund the development of East Anglia Three. Eksfin is providing a loan guarantee covering 90 percent of the loan amount, with Citi serving as the guarantee holder.
This marks the first instance of Eksfin extending guarantee financing to a Spanish energy company, and the move holds substantial potential for Norwegian suppliers by aligning with the agency's mandate. The loan financing facilitates export contracts worth over NOK 6 billion (approximately EUR 590 million).
Fostering Norwegian Exports
Eksfin's collaboration with global offshore wind developers carries significant importance for the Norwegian offshore wind cluster.
Tone Lunde Bakker, Managing Director of Eksfin, expressed her satisfaction with the Iberdrola transaction, emphasizing its contribution to fortifying Norway's standing in renewable energy and unlocking fresh prospects for Norwegian exporters.
This agreement signifies a significant milestone for Eksfin, which, since 2019, has furnished more than NOK 20 billion (around EUR 1.8 billion) in financing for international purchasers of Norwegian technology and services within the offshore wind domain.
Iberdrola remains steadfast in its dedication to sustainability, grounded in electrifying the economy through clean energy sources. This initiative aligns with their broader objective of combating climate change and generating economic growth and employment in the regions where they operate. This collaboration reinforces Iberdrola's relationship with its Norwegian partners.
Offshore Wind Drives Norwegian Supplier Industry Growth
The offshore wind sector currently serves as the chief catalyst for the burgeoning growth of Norway's supplier industry in the renewable energy sector. The strategic partnerships formed by major developers like Iberdrola contribute to securing future capacity while positioning Norwegian companies favorably to secure forthcoming contracts.
For the East Anglia Three project, boasting a capacity of 1,400MW that can power approximately 1.3 million homes with clean energy, Iberdrola has engaged Aker Solutions for a transformer platform and Seaway 7 for installation services. Numerous small and medium-sized Norwegian enterprises function as sub-suppliers to these industry leaders, collectively driving progress in the offshore wind sector.