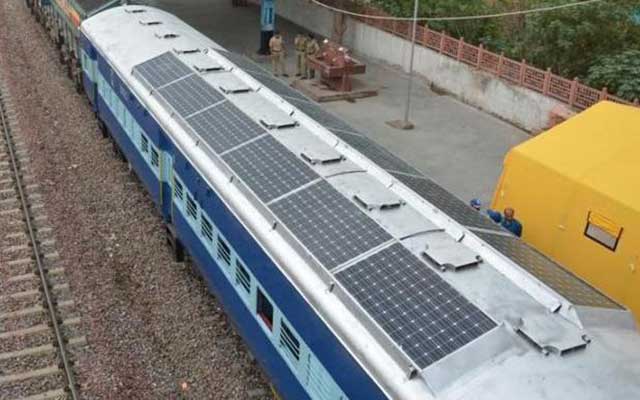 India's ministry for railways has signed four memoranda of understanding (MoUs) aimed at better management and utilization of energy.
The ministry signed MoUs with ministry for power and ministry for new and renewable energy (MNRE). The agreements are focused on heightened cooperation between the ministries to improve electricity transmission and efficiency, and utilization of renewable energy over the Indian railways network.
According to a statement, the MoUs provide a framework on which both parties "may collaborate and cooperate for efficient, reliable and economical generation, transmission, distribution, trading, supply, marketing of electricity and energy efficiency in Indian Railways".
Piyush Goyal, the minister of state (I-C) for power, coal and new and renewable energy, has stated that the MoUs will help lower the cost of electricity and consumption in the railways besides facilitating large-scale adoption of LED lighting.
He added that equipment required for the projects will be sourced from domestic manufacturers to promote the government programs such as Make in India and Skill India.
Suresh Prabhu, the minister for railways, said his ministry was working toward minimizing emission of greenhouse gases and "will become a green transporter in the near future".
Prabhu added that the MoUs were intended to generate cheaper, easier and commercially viable renewable energy.
The ministry for railways has also signed an MoU with Bureau of Energy Efficiency to implement energy efficiency projects across the rail network.
The agreement is expected to facilitate identification and design of interventions, such as energy audits, to enhance energy efficiency.
Another MoU has been signed with Energy Efficiency Services Limited (EESL) and Railways Energy Management Company Limited (REMCL) for implementation of energy efficiency measures in Railways buildings.
REMCL-EESL will work to enhance energy efficiency in buildings owned by the railways and expand the Domestic Energy Efficient Lighting Programme (DELP) being carried out in railway colonies.
The first project they are to undertake is upgradation of energy infrastructure at Rail Bhawan within the next eight weeksaimed at reducing 20 percent of electricity consumption in the building.
One other MoU between MNRE and the railway ministry aims to bring clean resources into the energy mix of the railways. It also focuses on solarization of Railways.
Ajith Kumar S
editor@greentechlead.com