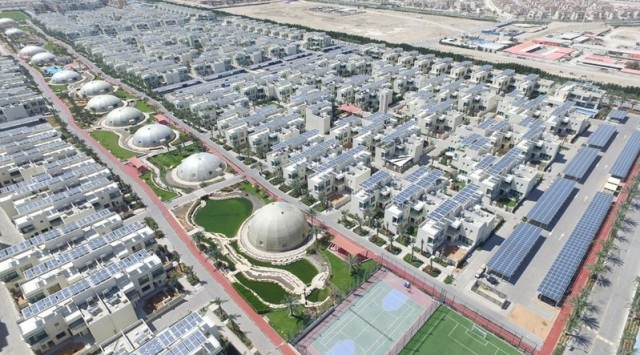 Trina Solar announced that its PV modules have commenced operations in the 10 MW Sustainable City in Dubai, one of the largest sustainable cities in operation to date in Middle East.
The residential and commercial complex includes 500 residential villas, 170-room hotel, mosque, school, swimming pool and an equestrian club and track.
Given the harsh environmental conditions in Middle East, the installation will be made up of 40,000 Duomax panels – a solution which has long been renowned for its durability and reliability, the company said.
Duomax panels feature a first-of-type frameless design, ensuring no dust accumulation and requires minimum amount of cleaning thereby adhering to the city's sustainable and environment friendly design standards.
The dual glass design of Duomax secures the project design life of 30 years backed with Trina's performance warranty.
Helena Li, president, Asia Pacific & Middle East, said, "Solar power is expected to be a significant contributor to Dubai's ambitions to become the world's most sustainable city by 2020. As a result, the government has looked towards smarter living initiatives, particularly in a desert environment, and we are delighted to have supported them in achieving their clean energy vision through our innovative solar products."
Anwar Zabin, CEO of City Solar, said, "The completion of phase 1 is a momentous milestone in our work within The Sustainable City with the installation of 24,170 solar panels so far. Our work continues and we look forward to embarking on phase two, which will see the installation of further 15,000 solar panels."
Zabin added, "We are building up to our total goal of 40,000 solar panels, which will eventually produce up to 10 MW of power at maximum capacity. The energy produced per year will be equivalent to 16,000 MW contributing to the reduction of carbon emissions by 8,000 tons per year."
editor@greentechlead.com