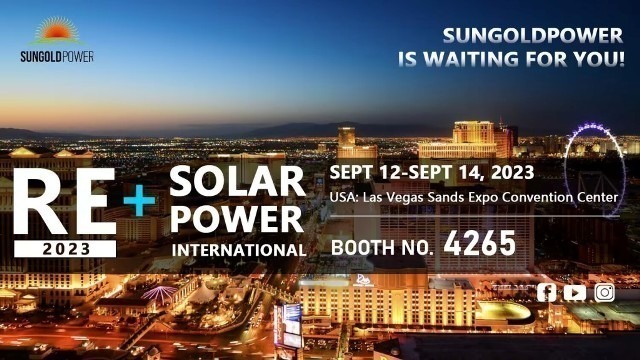 Sungold, a leading global manufacturer of solar panels, made a significant mark at the RE+ 2023 energy event held from September 12 to 14. The event, a congregation of experts, innovators, and industry leaders, served as a platform to discuss and showcase the latest breakthroughs in renewable energy technologies. Sungold, as a pioneering supplier of solar panels, utilized the event to reaffirm its dedication to transforming the utilization of solar energy.
Customized Solar Solutions Showcase:
Balcony Solar Systems: Sungold unveiled an innovative approach to harnessing solar energy in urban spaces. By seamlessly integrating solar panels and microinverters into a stained glass panel design, homeowners can effectively reduce electricity bills and minimize their carbon footprint. This innovation empowers urban dwellers to utilize available space optimally for sustainable energy production.
Outdoor Adventures with Hi-Power Series: Catering to outdoor enthusiasts, Sungold showcased the Hi-Power series high-power solar panels. These portable solar panels, with an IP68 waterproof rating, are compatible with various portable power stations. Efficient and lightweight, these solar panels are designed for camping, hiking, and other outdoor activities, providing reliable power under diverse conditions. Testing has shown that a 400W portable solar panel can fill up a 2000Wh energy storage in just 6.25 hours under ideal conditions.
Mobile Charging Solutions: Sungold's commitment to convenience and sustainability is evident in the SPC series charging bags and Winner Bag series of portable cloth-sewn charging bags. Compact and easy to carry, these charging bags are ideal for charging smartphones, tablets, and other devices while on the move. The BXF series of all-in-one portable solar panels can be hung directly from a backpack for added mobility and convenience.
Caravan and RV Energy with TF Series: Sungold showcased the TF Series flexible solar panels customized for caravans, campers, and yachts. These flexible solar panels offer both efficiency and flexibility, making them the prime choice for individuals seeking to power their mobile homes with solar energy.
Sungold's participation at RE+ 2023 highlighted their innovative solutions that cater to diverse energy needs, marking a significant stride towards sustainable and accessible solar energy for all. The company's dedication to pushing the boundaries of solar technology showcases their pivotal role in driving the renewable energy revolution.