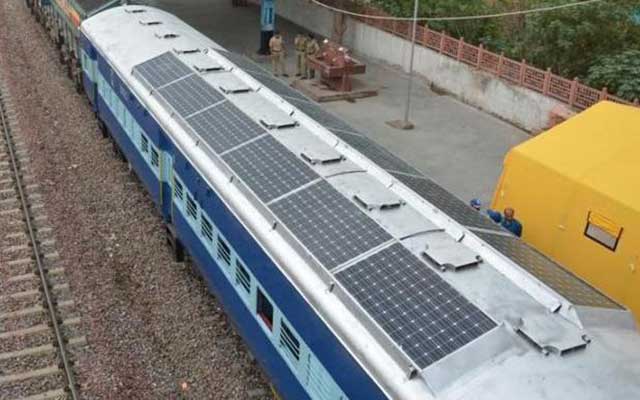 Indian Railways may introduce 500 trains with solar panel fitted coaches. LiveMint, quoting an unnamed government official, reports that the ministry of new and renewable energy could subsidize the project cost.
The national transporter had run a pilot project with a specially outfitted coach earlier this year to study the feasibility of such an initiative.
The energy generated by the solar panels is likely to be used solely to meet illumination and air flow requirements in the bogies.
The report does not detail whether the project would also have storage mechanisms coupled with the panels to power devices in the absence of sunlight.
ALSO READ: Netherlands to power railways entirely with wind power by 2018
The railways already have a plan to install solar power capacity of 500 megawatts on rooftops of railway stations.
It is part of the organization's target to meet 10 percent of its energy requirements from renewable sources by 2020.
And it has signed four agreements with the ministries of power and renewable energy toward this purpose last month.
On average, Indian Railways is seeing 5 percent increase in energy consumption annually. In the year ended March 31, the railways had a power bill of Rs12,500 crore.
Recently the railway network of The Netherlands, Nederlandse Spoorwegen, announced that it will be operating its entire rolling stock on wind power by 2018.
Ajith Kumar S
editor@greentechlead.com