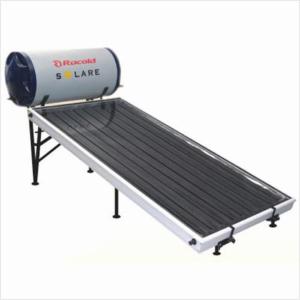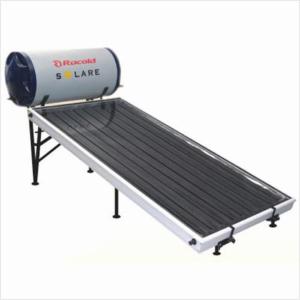 Greentech Lead India: Racold Thermo, a manufacturer of water heaters, is one of the few companies with major presence in all the 3 market segments – electrical, solar and gas water heaters.  The company sees great potential for solar water heaters (SWH) and systems in India. By 2020, the group aims to have 80 percent of its business coming from high efficiency and renewable solutions.
India is endowed with vast solar energy potential. About 5000 trillion kWh per year is incident over India's land area with most parts receiving 4-7kWh per sq. m per day. Solar energy is environmentally friendly and has zero emissions while generating electricity or heat. From an energy security perspective, solar is the most secure of all sources, since it is abundantly available.
As is evident, the opportunity is there to be tapped.  Govt. has made it mandatory to install SWH in all Govt. buildings / hospitals, projects, etc. Under the Jawaharlal Nehru National Solar Mission, MNRE is offering a subsidy of up to 30 percent to encourage the installation of SWH. There are also some state governments incentivizing housing projects which are encouraging SWH installations. All these factors should help Racold in improving our penetration of solar water heaters and resulting in increased sales volumes.
Racold intends to expand its dealer network in the existing and new markets and also cover new markets with efficient after sales service support.
Challenges in the Industry
According to Racold, swolar water heater market faces a number of challenges: creating awareness of
SWH and its benefits; reach/penetration; provision of after sales service back-up; development of rural market; lack of piped water supply; and logistics issues  are some of them.
Solar can meet only a small part of the total thermal heating requirement as the space required for installation is very large. Development of retro market, mushrooming of non-serious/small players, inadequate area for installation on the roof and problem related to management of a community system (multi- storied buildings/ apartment) are other major challenges.
Trends for 2013
There is a growing awareness among consumers of the energy savings benefits and environment friendly aspect of solar water heaters which has translated into an amenable disposition to this category. The resulting curiosity of the category and the number of enquiries is only going to drive growth in this sector. Racold expects the market for solar water heaters to grow at around 15 percent p.a while we target a growth of 50 percent per annum.
The company expects an increase in the market penetration in the Solar Water Heaters category which would primarily come from expanding its reach and distribution.  The efforts to reach uncovered towns & cities will drive awareness and expansion in this category. Secondly, the continuous improvement in the product quality will ensure that only the serious and long term players will survive in the marketplace. Thus, the overall scenario in this category would be to provide better quality of products for a discerning customer at an affordable price.
Racold's promises to its clients in 2013
Racold Thermo offers the latest in technology and international standards, specially adapted to suit Indian conditions. Racold has redefined industry standards and set new benchmarks in water heating by enhancing our R&D efforts to ensure the aesthetics, quality, durability, safety and performance of the product. The company has obtained quality and performance certifications as per IEC, CE and other similar International standards.
With a comprehensive range of Solar water heaters backed by an efficient service, Racold Thermo Ltd., will be providing reliable water heating solutions to all the sectors i.e. domestic, commercial and industrial.
Racold believes in introducing innovative technologies and providing products that are ideally suited for Indian market and water conditions. Some of their strengths include 5 year guarantee for their products, wide spread network of dealers & service, Duronox – Passivated inner tanks for more durability, Omega Collectors for higher efficiency, rust proof outer body and screw less collectors.