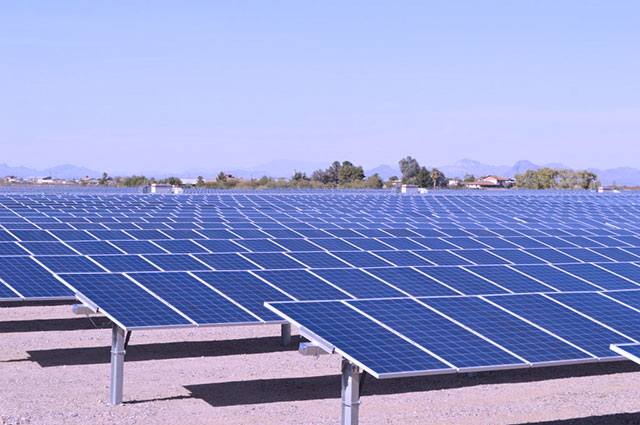 The Philippines-based oil exploration and development company PetroEnergy Resources Corporation (PERC) has stated that it could complete its maiden solar power venture by next March.
Francisco G Delfin, Jr., the vice-president of PERC, has told BusinessWorld Online that the company was conducting environmental impact studies, grid impact study (GIS) and conceptual engineering design for the project.
PERC is also in the process of screening engineering, procurement and construction (EPC) contractors for the project.
"The study is expected to be completed in the third quarter of this year. We have to evaluate after the completion of all feasibility studies whether there will be an opportunity for us to build and complete this 50-megawatt (MW) solar farm," Delfin said.
He added that the company has set March 2016 as deadline for commissioning the project to benefit from the Feed-in Tariff regime.
Last month, PetroGreen Energy Corp, a wholly-owned subsidiary of PERC, signed a renewable energy service contract with the Philippines department of energy for a solar project in Tarlac.
The project will be developed on a 50-hectare site close to access roads, power distribution lines and substations. PERC had estimated the solar power potential of the site, which is close to Hacienda Luisita, to be 10 to 50 MW of solar power.
The company plans to develop the facility in stages which can be expedited based on the uptake of FiT allocation.
According to the plan, the facility can be expanded from 50 megawatts capacity to 500 megawatts.
Under the Feed-in Tariff, solar developers can sell power at the rate of 9.68 pesos per kilowatt-hour (about 0.2 dollars) for 20 years.
Delfin said the first project will determine if the company will develop other solar projects.
The solar project planned in Tarlac is the latest addition to PERC's portfolio of renewable energy ventures.
The company has a 65 percent interest in Maibarara Geothermal, the owner and operator of a 20-MW geothermal plant in Sto. Tomas, Batangas.
PERC is also developing a 50-megawatt wind farm in Nabas, Aklan, through PetroWind Energy, of which it owns 40 percent.
Ajith Kumar S
editor@greentechlead.com