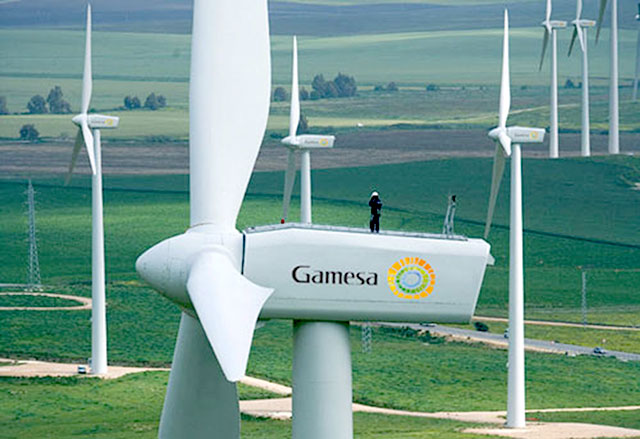 Spanish wind turbine maker Gamesa is re-entering the solar power business in the Indian sub-continent with 10 MW power project and is also planning a Rs 800 crore investment, said a top official of the Indian subsidiary.
In 2004, Gamesa exited the solar power business.
"Gamesa is re-entering the solar power business in the Indian sub-continent leveraging the synergies that exit between the wind and solar power businesses," Ramesh Kymal, chairman and managing director, Gamesa India, told reporters here.
He said the company would focus on grid connected, industrial scale and roof top solar power projects.
Gamesa's recently-unveiled 2015-2017 business plan contemplates analysis of businesses that complement its traditional business, such as solar power and offgrid, with the idea of exploring these synergistic markets in order to add value from 2018
Kymal said the company has bagged 10 MW solar power park order on engineering, procurement and construction (EPC) basis from three parties in Tamil Nadu.
Talking about the available synergies between the two lines of businesses Kymal said, Gamesa has the project management experience in setting up wind power projects and it would be replicated in the solar power business.
According to K.V. Sajay, executive vice president, Solar Business Unit, Gamesa will focus on solar photovoltaic (PV) modules, operations and maintenance of the solar assets, inverters and balance of systems.
Kymal said Gamesa makes the inverters that are used in wind turbines and the same would be used in solar power projects.
"Inverters are the heart of solar power projects. We are also talking with couple of PV panel makers for supplies," he said.
According to him, entry barriers in the case of solar power is very low unlike in the case of wind power.
Investors find it difficult in case of warranty claims in respect of solar panels and other systems and Gamesa can solve this issue, he remarked.
Gamesa hopes that its wind turbine customers would come forward to set up solar power projects.
"We are planning to set up the solar power projects in land contiguous to where the windmills of our clients are located. We are also looking at having land banks suitable for solar power projects," Kymal said.
Gamesa has a target to install 1,000 MW wind power this year up from 657 MW achieved last year.
IANS