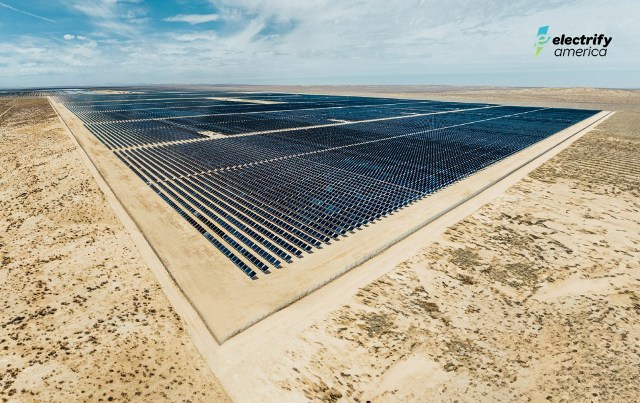 Electrify America, the leading open network of DC fast chargers for electric vehicles (EVs) in the United States, has officially commenced commercial operations of its innovative 75 Megawatt (MW) solar photovoltaic renewable energy generation project, known as Electrify America Solar Glow 1.
The project, situated in San Bernardino County, CA, marks a significant step towards the company's ongoing commitment to sustainable energy solutions.
The inauguration of Electrify America Solar Glow 1 is the culmination of a 15-year virtual power purchase agreement (VPPA) with Terra-Gen, a reputable developer in the renewable energy sector. This collaboration solidifies Electrify America as the largest open network of DC fast chargers to enter into such a VPPA for fresh renewable energy generation.
"This milestone, the Electrify America Solar Glow 1, underscores our dedication to reducing our carbon footprint," stated Robert Barrosa, President and CEO of Electrify America. "As a significant player in the EV charging landscape, we remain steadfast in our commitment to support the charging needs of today's and tomorrow's electric vehicle drivers."
The recently operationalized facility is projected to produce a peak solar capacity of 75 MW, equivalent to the energy consumed by 500 EVs charging simultaneously at an average rate of 150 kilowatts. The anticipated annual energy output is an impressive 225 Gigawatt-hours (GWh).
In 2022, Electrify America facilitated over 5 million customer charging sessions, a remarkable increase of 3.5 times compared to 2021. These sessions translated to approximately 173 GWh of electricity, enabling an estimated total of 493 million miles of electric driving while circumventing the consumption of around 21 million gallons of gasoline.
Anticipating a continued surge in EV adoption and corresponding demand for charging infrastructure, Jigar Shah, Director of Energy Services at Electrify America, expressed, "We foresee an upward trajectory in our charging network's usage due to the expanding EV ownership. Solar Glow 1's addition of 100 percent renewable energy production, surpassing our 2022 network usage projections, solidifies its importance."
The Electrify America Solar Glow 1 initiative resides in San Bernardino County and spans more than a square mile, accommodating over 200,000 solar panels. This ambitious project aligns seamlessly with Electrify America's 2022 commitment to exclusively source energy for its coast-to-coast public, ultra-fast DC charging network from 100 percent renewable sources.