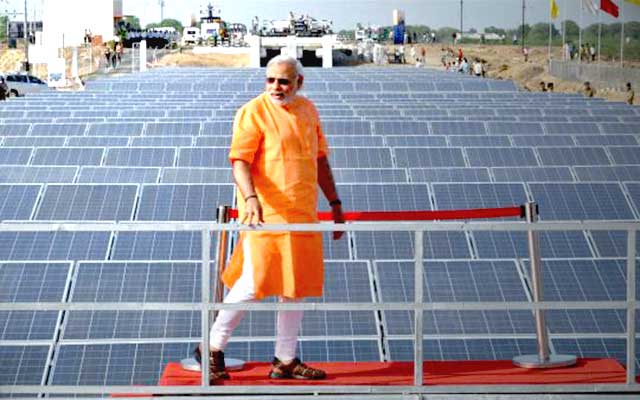 Seeking a grand alliance among 122 nations to pursue solar energy, India is set to make a significant impact at the 12-day climate change conference in Paris, with Prime Minister Narendra Modi himself unveiling the country's position on Monday, the opening day.
The Indian prime minister will be among the 147 heads of state and government who have, thus far, consented to attend the event – officially called the 21st Session of the Conference of Parties under the United Nations Framework Convention on Climate Change.
Around 50,000 participants, including 25,000 delegates and stakeholders from 196 nations, are to converge in the French capital to forge a legally-binding deal to protect the environment from global warming, without sidestepping the aspirations of poor and developing nations.
"Developed countries have to walk the talk," India's Environment Minister Prakash Javadekar told IANS ahead of the crucial meet, hoping for some flexibility from rich nations led by US President Barack Obama, German Chancellor Angela Merkel and French President Francois Hollande.
Highlights of India's offer for the summit:
# Formation of solar alliance
# Strive for equitable and just climate agreement
# Push for funding and technology transfer from developed countries
# Propose a healthy and sustainable way of living based on tradition, conservation and moderation
# Propose to cut CO2 emissions by 2-3 billion tonnes by 2030 through forest, tree cover
# Mobilise funds from rich nations for bridge resources required towards mitigation
# Push for global framework for quick diffusion of technology and collaborations
He also listed the main criteria: A pact on keeping the rise in global temperatures at below 2 degrees Celsius, monitoring mechanism on commitments by countries, steps to raise $100 billion annually for a climate fund, and technology transfer from developed to developing nations.
On the opening day, Prime Minister Modi and President Hollande will propose a collaborative pact among 122 countries, many of them located between the tropics of cancer and capricorn, for an alliance to be named the International Agency for Solar Policy and Application.
"We must all do our part. For India a target of 175 GW of additional capacity in renewable energy by 2022 and reduction in emission intensity of 33-35 percent by 2030 are just two of the steps of a comprehensive strategy," Modi had said at a business event in London earlier this month.
"We all look forward to a concrete outcome in Paris, within the framework of the UN Convention on Climate Change. The framework has an appropriate balance of collective action: Equity and common-but-differentiated responsibility and respective capabilities," the prime minister had added.
Javdekar said there was also no problem in raising the $2.5 trillion that is needed to fund the solar alliance proposed by India over the next decade. "We have worked out the mathematics and its not just a wishlist but concretely backed by money power."
At the larger level, the poor and emerging economies want clean and green technology and funding from rich nations to pursue their national interests without harming the environment further, as they hold the industrialised responsible for polluting the earth in the past.
"What we are asking for is absolutely fair and the developed world must recognise that they have to atone for the historical carbon emissions that they have been putting out in the atmosphere for over 150 years in their search for prosperity," Javadekar said.
India also submitted on October 2, coinciding with Mahatma Gandhi's birth anniversary, its action plan on climate change, called Intended Nationally Determined Contributions, pledging to slash by 33-35 percent over 15 years, while also pursuing its own sustainable development agenda.
These submissions, asked from the 196 members, will serve as the basis for negotiations.
"One can reasonably expect a deal in Paris for a process of continuously improving the mitigation ambitions of countries. But that will also not be easy. One may also hope for an agreement related on financing," said Manish Kumar Shrivastava, fellow with The Energy and Resources Institute.
But Sunita Narain, the outspoken director-general of the Centre for Science and Environment (CSE), had her apprehensions, notably on a legally binding commitment, and said the deal may only chart the procedures for submitting reports and make them mandatory.
"It may also sidestep the tricky issue of review of Intended Nationally Determined Contributions, which countries like India have strangely objected to. It will simply say: In five years there'll be a stocktaking of the aggregate of all the contributions," Narain told IANS.
"So no individual country's progress will be reviewed — only the sum of their actions."
Modi, however, was hopeful. "We look forward to a concrete outcome in Paris within the framework of UN Convention on Climate Change. The framework has appropriate balance of collective actions: Equity and Common but differentiated responsibility and respective capabilities."
Manoj Pokhriyal and Aroonim Bhuyan / IANS