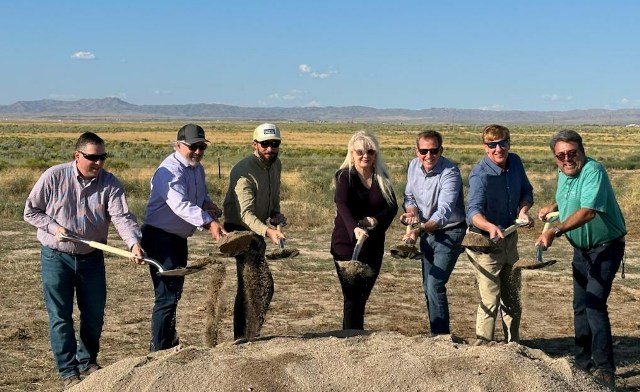 Matrix Renewables and rPlus Energies celebrated a significant milestone with the groundbreaking ceremony for the Pleasant Valley Solar project, a formidable 200 MWac / 261 MWdc solar initiative in Ada County, Idaho. Once operational, this solar facility is set to become the largest within Idaho Power's service territory, contributing clean energy to the grid that powers Meta's new data center in Kuna, Idaho.
The groundbreaking event followed Matrix Renewables' acquisition of a controlling interest in Pleasant Valley Solar from rPlus Energies earlier this summer, solidifying their commitment to advancing renewable energy initiatives. rPlus Energies, the original project developer, retains a minority stake in the venture, underscoring their ongoing dedication to sustainable energy ventures.
Cindy Tindell, Managing Director and Head of U.S. for Matrix Renewables, emphasized the significance of this groundbreaking, stating, "This groundbreaking is the next big step toward making the Pleasant Valley Solar project a reality for the people and future of Idaho, supporting its transition to locally produced clean, green energy."
Luigi Resta, President & CEO of rPlus Energies, expressed pride in collaborating with Meta and Idaho Power as long-term partners to accomplish their sustainability objectives and facilitate the region's transition to renewable energy. He also commended Matrix Renewables for their shared dedication to renewable power generation for Ada County and its community.
The Pleasant Valley Solar project is anticipated to engage numerous local vendors during construction, contributing substantial revenue to the area, bolstering local businesses, and generating approximately 220 construction-related jobs.
To ensure the successful implementation of this ambitious project, various industry experts have been enlisted. Sundt Renewables will oversee engineering, procurement, and construction (EPC) services, Nextracker will provide the necessary racking, BODEC will handle high voltage electrical contracting services, and ET Solar will supply the essential solar modules for Pleasant Valley Solar.
The commencement of this groundbreaking marks a significant leap toward a greener and more sustainable energy landscape, epitomizing the commitment of Matrix Renewables, rPlus Energies, and their partners to drive renewable energy advancements and enhance the region's energy sustainability.