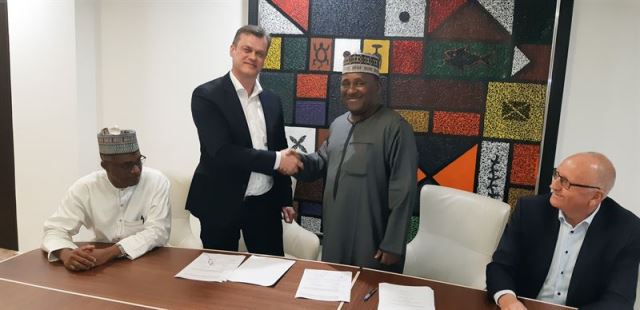 Wartsila announced its deal with BUA Group to supply an engine power plant based on Smart Power Generation technology to enhance the output and reduce the carbon footprint of a cement production facility in Nigeria.
BUA Group has ordered the 48 MW plant, following the decision to construct a new cement line in Sokoto, in northwest Nigeria.
The plant will operate without connection to grid and provide the power needed to serve the new cement line number 3 at the Sokoto cement production facility. It will operate on five Wartsila 34DF dual-fuel engines running primarily on liquified natural gas (LNG), but with the capability to switch to low pour fuel oil (LPFO) if necessary. The facility's two existing power plants operate on heavy fuel oil (HFO).
Magnus Miemois, regional director of Wartsila Energy Business, said: "Wartsila was able to offer an attractive value proposition that includes superior technology, high efficiency, and the ability to deliver the needed fuel flexibility."
Wartsila will deliver the equipment at the end of 2019, and the new plant is expected to become operational in mid-2020.
Wartsila has the total power plant installed base of 650 MW in Nigeria and more than 7,200 MW in Africa.
Earlier, Wartsila launched Engine+ Hybrid Energy, the company's newest solution for power producers, helping them to reach their renewable energy goals. The solution pairs engines with energy storage to form automated system, and provides a reliable power generation solution with improved efficiency.