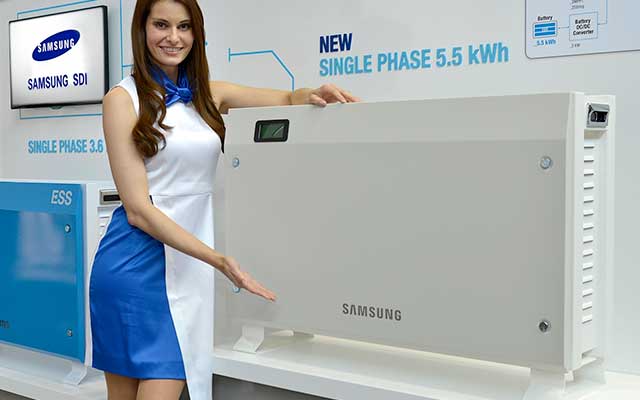 Samsung SDI launched two residential energy storage systems (ESS) at Intersolar Europe 2015 exhibition under way in Munich, Germany.
The 5.5kWh and 8kWh devices strengthen Samsung's residential ESS portfolio which currently has only a 3.6kWh system. With the expansion the company hopes to cater to the needs of different segments of German residential ESS market.
According to a statement issued by Samsung, the new products perform three functions in one: that of a photovoltaic inverter, battery PCS and lithium-ion battery.
The company claims that the direct current, all-in-one system is highly efficient in storing solar energy as it does not require inverting the power generated by modules and is stored as such in the battery.
ALSO READ: Samsung introduces latest LED lighting solutions
Also, the battery being the same as the one used in premium German EV cars, and landmark grid-scale energy storage in Schwerin, Germany, guarantees robust performance.
The company cites its history of zero recall of lithium-ion batteries to highlight safety of the devices. Also it has stated that the products wome with long-term product warranty of 5 years, and performance guarantee of 10 years.
Earlier this year, Samsung SDI acquired battery business from Magna International to expedite its entry into the electric vehicles market.
Magna International is the largest automotive supplier in North America, based in Ontario, Canada.
Since 2002, Samsung SDI has produced a range of batteries and energy-storage products, including small lithium-ion batteries, materials for semiconductors and displays, and car batteries.
Samsung SDI expects that the market for EVs will reach 7.7 million vehicles by 2020 up from 2.1 million in 2014.
Ajith Kumar S
editor@greentechlead.com