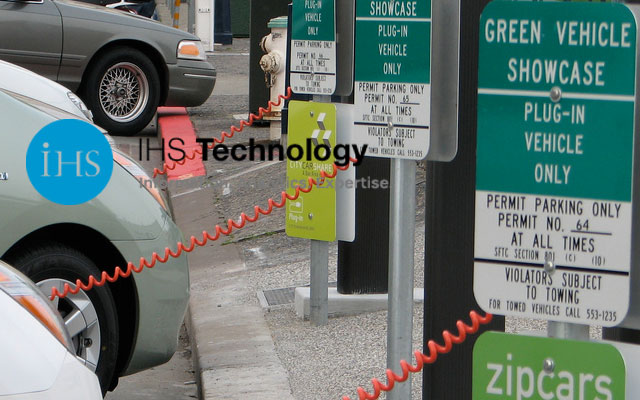 IHS inc, a market research firm, has forecast that the global market for EV Chargers will grow to 12.7 million units by 2020 compared with the base figure of 1 million units in 2014.
The data has been included in the EV Charging Infrastructure report published recently by IHS. The report discusses the existing extent of EV charging stations and future prospects for growth.
IHS has stated that the growth in charging stations will have to keep pace with the global production of pure electric and plug-in hybrid electric vehicles, which is expected to grow significantly by 2020.
Two types of charging stations — AC and DC — exist in the market today. The AC charging station supplies power to an on-board vehicle charger. These typically provide electric range of 5-15 miles per 30 minute charge.
DC charging stations, in turn, supply current directly to the batteries of the electric vehicles. These are able to provide about 80 miles of electric range per 30-minute charge.
Commenting on future prospects of the market Ben Scott, senior analyst at IHS, said: "Most charging stations are expected to be installed in domestic applications such as a dedicated wall box or a charging cord plugged into a household power source. AC charging stations are the dominant type of plug-in vehicle charging type, and we expect AC charging to retain its position in the long-term."
According to the IHS report, by 2020 about 10 percent of EV charging stations will be within the public or semi-public domain. And most of these will be AC charging units.
DC charging stations are expected to be comparatively fewer and located on the outskirts of cities and highway infrastructure.
The report finds that deployment of charging stations depends strongly on price which varies from $395 for a simple domestic wall box to more than $35,000 for a DC charging station. Installation costs can amount to $10,000 for a DC charging station, depending on its location and accessibility.
Among global nations Japan is forecast to surpass other nations of the world in EV charging station installation. The country would have more EV charging stations than petrol stations by 2020, the report says.
According to the report, Japan has more than 2,800 DC fast charging stations, which apply CHAdeMO, the Japanese fast-charging standard. The country accounts for roughly 50 percent of the global total of all CHAdeMO stations.
In Europe, the Netherlands, United Kingdom and Norway lead the way in charging station deployment. Germany and France, too, hold significant potential for growth in e-charging station networks, IHS reports.
In the US, states are largely deploying EV charging stations.
Recently, BMW and Nissan formed a partnership to develop a national grid of EV charging stations across South Africa. Such initiatives would grow manifold in the future, going by the IHS forecast.
Ajith Kumar S
editor@greentechlead.com