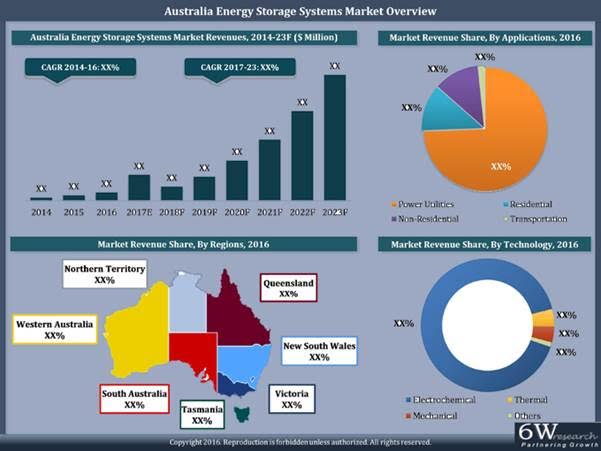 Australia energy storage systems market revenues are projected to grow at a CAGR of 30.1 percent during 2017-23, says 6Wresearch.
Increasing the share of renewable energy in the total energy generation mix is one of the main objectives of the ruling Australian government. Under this objective, a target of 33,000 GWh of renewable energy production is planned to be attained by 2020.
With increasing uptake of rooftop solar plus storage systems in households and predicted rise in the adoption of electric vehicles in future, the energy storage systems market in Australia is expected to register substantial over the next six years.
Large-scale storage projects such as Tesla's 100 MW battery and Lyon Group's $1 billion solar farm are presently under construction and with multiple power plus storage projects in pipeline, the sale of energy storage solutions is anticipated to witness rapid growth.
The residential and power utility sectors in Australia are the key revenue generating segments in energy storage landscape due to rapidly rising installations of rooftop solar PV. Due to expected fall in prices, the market share of lithium-ion and flow batteries would subsequently increase during the forecast period, according to 6Wresearch.
"With many players offering residential energy storage solutions at competitive prices and with multiple power-cum-storage projects in development stage, the Australian energy storage systems market is in a booming stage right now," Ravi further added.
By technology, electrochemical energy storage systems accounts for the highest market revenue share in the overall energy storage systems market. Further, lithium-ion batteries are expected to gain majority of the revenue share in the electrochemical energy storage segment due to higher efficiency and economic advantages offered by them as compared to their lead acid counterparts.
"The market for electric vehicles in Australia is presently in infancy stage but is expected to grow rapidly over the coming years. This impending increase in the uptake of electric vehicles would lead to an increase in the use of energy storage systems in the transportation segment," Rachit further said.
Some of the major companies in Australia energy storage systems market include – LG Chem, Tesla, Sonnen, GCL-SI and Redflow.
editor@greentechlead.com