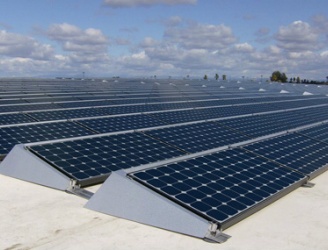 Greentech Lead Australia: Solar energy provider SunPower
has invested in Diamond Energy, a privately-owned, alternative energy project
developer and clean electricity retailer headquartered in Melbourne,
Australia, to offer clean energy solutions to customers in Australia.
The partnership creates a one-stop shop for consumers,
providing high efficiency solar electric systems, grid-source renewable energy,
and retail services such as metering, billing, and management of exported
electricity to the grid.
Established in 2004, Diamond Energy specializes in
developing, delivering and managing renewable generation, cogeneration and
interruptible load projects with a breadth of experience spanning solar,
bioenergy, wind and wave technologies.
SunPower has acquired a minority stake of approximately
42 percent in Diamond Energy and under terms of the agreement has an option to
increase its ownership percentage over time. SunPower will also assume a seat
on the company's board of directors.
"SunPower is taking a step closer to its customers
by investing in an electricity retailer like Diamond Energy,"
said Tom Werner, president and CEO of SunPower. "More customers will
see solar as a cost-effective way to meet growing energy demands, especially as
the price of conventional grid power increases in Australia."
"Through this partnership, SunPower and Diamond Energy
are poised to deliver affordable, renewable electricity services that cover
everything from the generator to the household electricity meter," Werner
added. "We look forward to this new venture and expect it to serve as a model
for SunPower's continuing evolution into a complete energy solutions
provider."
Diamond Energy owns two biogas plants, has power purchase
agreements with a number of third-party generators and as Australia's
"Solar Friendly Retailer" sells clean energy through its retail
divisions to its residential and Commercial Green customers. Diamond Energy holds
licenses to deliver electricity across the National Electricity Market (NEM)
in Australia.
"This investment by SunPower supports the growth and
strengthens Diamond Energy for the upcoming clean energy revolution," said
Diamond Energy managing director Tony Sennitt. "We generate change
here at Diamond, and through this relationship we will be able to bring the
world's most efficient and reliable solar technology to a broad range of
households and businesses throughout Australia at affordable prices.
We look forward, with SunPower's support, to expanding the business into a
shining, renewable example of what can be achieved when innovative value is
delivered to customers."
SunPower and Diamond Energy will also work to grow
development of commercial and utility solar power projects in Australia,
leveraging SunPower's experience delivering more than 1,000 megawatts of
cost-competitive, large-scale solar power systems worldwide.