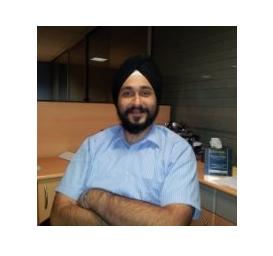 Gensol, a solar advisory and project execution company, is an adviser to over 400MW of commissioned or under construction solar PV projects and has cumulative portfolio of more than 1 MW of rooftop solar power plants under execution.
Anmol Jaggi, director, Gensol Consultants, recently shared his views on the company's role in boosting the solar industry in India. He also discussed the challenges facing the industry.
What is Gensol's role in boosting solar energy adoption in India?
Gensol has been a very active player in the solar industry and has been the eyes and ears of the developer's by assisting them with every step in the development of the solar plant starting from pre-feasibility, land finalization, permits a clearances, design of the civil / AC / DC components, procurement, assuring quality during construction and performance testing.
In my opinion our key role is to get developer's comfortable with the concept of solar and thus increasing the adoption of the technology.
What are the hurdles that prevent massive adoption of solar in cities and villages in India?
The key hurdle is affordability which I define by the initial high cost investment. We need more financial Institutions to fund solar systems for residential households – may be like a 12 month scheme offered on consumer white goods.
Also, solar companies have to work hard to ensure quality service is delivered to the customers and thus increasing their trust.
What is the biggest hurdle faced by EPC contractors in India?
The biggest hurdle is the developer's perception of quality. Solar EPC in India is a hyper competitive market where quality contractors are finding it difficult to withstand the pricing pressures of cheaper and not so good contractors. Though the market has started to see the difference in PLFs amongst various contractors, it will take more time for the market to segregate the men from the boys.
Do you support Chinese imports? What is your view on the quality of Chinese panels when compared with Indian?
In our opinion there should be no hesitation in allowing Chinese imports as they are coming at a quality which is par with the best in the world, in fact the largest selling solar selling companies in the world are Chinese. If the domestic industry is to be bolstered the government has to provide them with incentives. We have used a lot of Chinese modules in our projects and have not faced any issues.
Are solar imports good for renewable energy industry in India? Why?
If imports lead to better technology, better pricing and ultimately a lower cost of production of energy – I think they are good for the industry and the consumers.
Do you think there is a lack of coordination between center and the states in following REC policy? What are the drawbacks in the policy, if you think so?
The underlying issue is that power is a concurrent subject and hence both the state and the center have rights to regulate the sector. With the efficient performance of the Forum of Regulators we are seeing more homogeneity in the decision making.
We don't see drawbacks in the REC Policy; however; proper enforcement is a serious issue.
Do you think a standardized solar energy pricing across all states will help the industry grow? Why?
Different states have different individuality in terms of Radiation, Land Prices, etc. and hence solar pricing should be dependent on state circumstances.
Is the solar industry facing pressure from conventional utilities? Are regulators keen to protect solar providers' interests over conventional energy suppliers?
In today's time, solar cannot compete with conventional power but we can definitely compete with diesel powered generation. Solar would need a special status for the next couple of years till the time solar achieves parity with conventional fuels. I am optimistic that solar would go and replace all diesel powered generation in the country.
What is your view on initiatives like net metering implemented by the state of Andhra Pradesh? Will these efforts boost solar energy adoption?
Net Metering is a very important concept as it makes all the solar power produced either being used by the consumer or going into the grid and making it remunerative for the consumer. We have lots of colleges and offices as clients which have 100 – 150 days of holidays in a year; it is during this time that net metering is useful.
It is even a good policy for the deficient power grids, though proper grid management systems need to be created.
What's your growth/expansion plans in India or abroad? What are your major markets?
We have a good market share in India and are looking forward to serving our existing clients to the best and it is through their referrals that we are landing up with more projects. We are expanding internationally by creating a 'Global Delivery Center' in India which will serve clients in Japan, S.E. Asia, Europe and America.
Rajani Baburajan