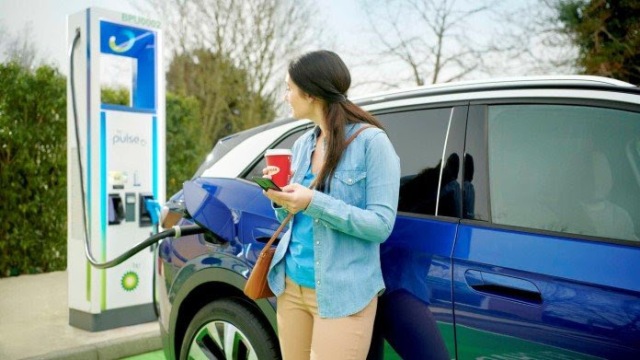 Reuters, in its news report, has presented a list of potential winners and losers from the Joe Biden administration's new standards for building out an electric vehicle (EV) charging network across the United States.
President Joe Biden previously committed to building a U.S. network of 500,000 EV chargers by 2030, and has now set the standards to disburse $7.5 billion in federal funds to support that effort. Today, there are more than 3 million EVs and more than 130,000 public chargers across the country, according to the White House.
WINNERS
EV DRIVERS: Consumers who drive EVs "now have assurance of knowing that they can charge their cars reliably, conveniently and hopefully with cost upfront that they can be aware of," said Colleen Quinn, head of the National EV Charging Initiative, a coalition of automakers, power providers, EV and charging industry leaders, labor and public interest groups. Others call that wishful thinking, citing complaints about bad service within the current charging systems.
U.S. STATES: Quinn said the states now have a "green light" to move forward with their plans to award $700 million in federal funds to build up their charging networks.
EV CHARGING COMPANIES: Many, including Volkswagen's Electrify America, ChargePoint and EVGo, will accelerate the rollout of chargers due to the federal funding.
SKILLED LABOR: The requirement that trained electricians provide installation and maintenance of the charging stations will likely lead to the creation of more higher-paying jobs, said Miles Muller, an attorney in the clean vehicle program at the National Resources Defense Council, an environmental advocacy group. The standards require that all chargers work at least 97 percent of the time.
U.S. STEELMAKERS/SUPPLIERS: The standards require any manufacturing of the chargers' iron and steel enclosures or housing occur in the United States. In addition, at least 55 percent of the cost of all parts in the chargers must be made in the United States by July 2024.
Welding giant Lincoln Electric announced fast chargers, while Blink Charging will expand its charger manufacturing plant in Maryland and plans to announce another factory this year.
U.S. EV AUTO SECTOR: The rollout of more charging stations will encourage EV adoption in the United States. That could potentially boost sales for automakers like Ford Motor, General Motors, VW as well as startups like Rivian and Lucid.
U.S. ELECTRIC UTILITIES: They get to tap the new federal funds to build chargers, and accelerated growth for EVs would boost electricity use.
INTERSTATE HIGHWAY REST STOPS: They could see an influx of investment as companies establish charging stations along heavily traveled routes. That could benefit companies like BP and Hertz, which are expanding charging at their gas stations and rental car locations, respectively. Rest stop operators like privately held Pilot Co and TravelCenters of America could also benefit.
TESLA: Under the new charging standards, the White House said EV market leader Tesla has agreed to open part of its U.S. charging network to EVs made by rivals. That could help turn Tesla charging sites into the universal filling station of the EV era, analysts said.
LOSERS
TESLA: However, the opening of Tesla's network also risks eroding the company's competitive edge for vehicles made by the company that currently have exclusive access to the biggest U.S. network of high-speed superchargers, analysts said.
EV CHARGING COMPANIES: While the charging companies get financial support in their expansion efforts, only a handful of the dozen who commented to the Biden administration ahead of Wednesday's announcement said that they could meet the "Buy American" standards under the proposed timelines.
OVERSEAS STEELMAKERS/SUPPLIERS: The requirement on domestic manufacturing will hurt overseas suppliers, although the Biden administration hopes that forces them to open plants in the United States as a result, analysts said.
Australia's Tritium will add more than 250 jobs at its Tennessee charger manufacturing plant. Germany's Siemens recently announced its second U.S. charging manufacturing plant in Texas, while South Korea's SK Signet will open a manufacturing plant in Texas, the White House said.