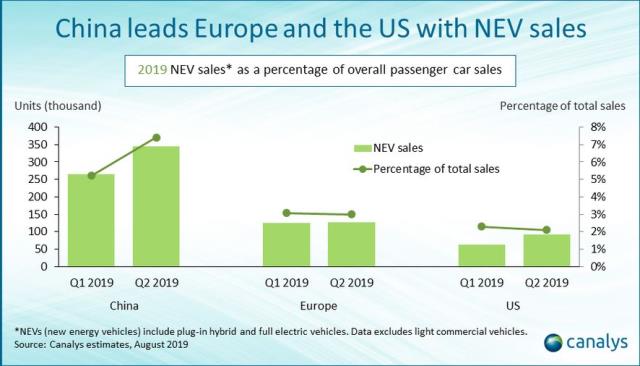 New energy vehicles (NEVs) represented 7 percent of all new passenger car sales in China in Q2 2019.
NEVs (electric, fuel cell and plug-in hybrid vehicles) represented 3 percent of new car sales in Europe in Q2 and 2 percent in the US.
China is the largest market for overall new passenger car sales (petrol/diesel engines and NEVs).
Total sales in China have been falling for several quarters due to the economic slowdown and US-China trade war. Sales fell by 16 percent in Q2 2019.
China government has supported car-makers that manufacture NEVs. This has resulted in a much greater choice of consumer vehicles in China than anywhere else in the world, said Jason Low, senior analyst at Canalys.
China government has made many NEVs built in China exempt from purchase tax, set car-makers ambitious NEV production targets, made it easier for buyers to obtain a license for a NEV than for a traditional vehicle, and given buyers financial incentives in the form of subsidies to purchase NEVs.
China government has slashed customer subsidies for NEVs as the government shifts focus to hydrogen fuel cell electric vehicles and refueling stations. NEV car-maker and battery supplier BYD has cut their 2019 sales forecast.
The slowdown will put immense pressure on Chinese NEV start-ups, such as NIO. Tesla will sense an opportunity and will benefit from its vehicles now being exempt from purchase tax in China.
NEV penetration across Europe and the US will be far behind China for some time. There is limited vehicle choice, inconsistent government support and a still-growing charging network.
Tesla will start the Model 3 shipment to Europe starting in 2019. Other car-makers, including VW, plan a significant shift to NEVs and will unveil new models soon, the success of which will define their future.