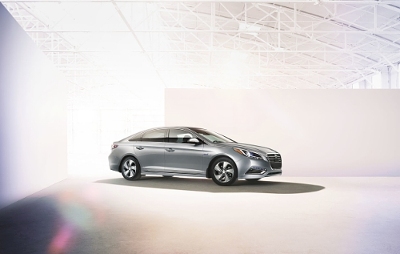 The Hertz Corporation, which includes the Hertz, Dollar and Thrifty brands, had added 2016 Hyundai Sonata Hybrid to its Green Traveler Collection fleet.
The new Hyundai Sonata Hybrid, rated at 40 mpg city and 44 mpg highway and featuring a gasoline engine and an electric motor, will be available in select cities across the U.S.
The gasoline engine delivers the primary charge energy for the lithium polymer batteries, while the regenerative braking system captures the energy created during braking and converts it into electricity to help recharge the hybrid's lithium polymer batteries.
Sonata Hybrid features a 60/40 split fold-down rear seatback. The vehicle's battery pack has been designed to fit below the trunk floor, giving drivers a flat, unobstructed space for loading.
The Sonata Hybrid is available to rent at airports including Los Angeles, Orange County, San Francisco, Atlanta, Dulles International and Chicago, as well as cities such as San Jose, San Diego and Long Beach in California; Portland, Oregon; and Denver.
The new Sonata Hybrid is just one of Hertz's smart mobility rental choices available in the Company's Green Traveler Collection, a line of hybrid, electric and clean diesel vehicles that offer high-fuel efficiency while being easy on the wallet.
All of the Green Traveler cars have fuel efficiency ratings starting at 33+ highway mpg.
More than 80 percent of Hertz's vehicles have a minimum fuel-efficiency rating of 28 highway mpg, the company said.
Edited by Rajani Baburajan
editor@greentechlead.com