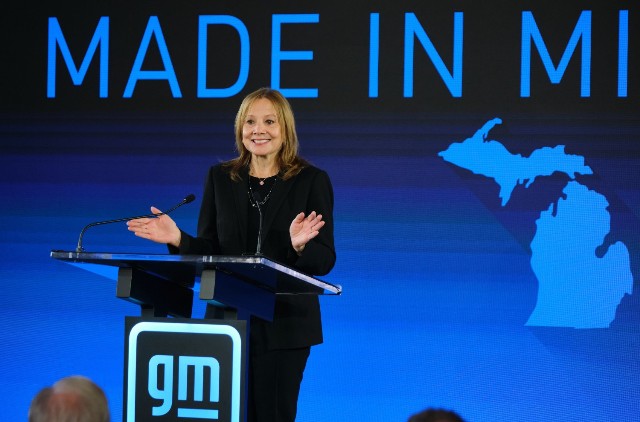 General Motors may fall short of its target to produce 1 million electric vehicles (EVs) in North America by 2025, Reuters news report said.
Though GM has stated its capacity to build that many EVs, the slow ramp-up of its three U.S. battery plants could result in actual production of less than 600,000 by the mid-2020s.
Sam Fiorani, head of global vehicle forecasting at AutoForecast Solutions (AFS), a respected industry research firm, believes that achieving the goal of producing over half a million EVs in North America by 2025 will be challenging due to the planned battery production at GM's Ohio, Tennessee, and Michigan plants.
GM spokesperson Jim Cain affirmed that the company has not revised its targets and aims to achieve cumulative EV production of 400,000 from early 2022 to mid-2024, as reiterated by CEO Mary Barra. While hurdles exist, Wedbush auto analyst Dan Ives expressed confidence in GM's ability to reach its targets.
GM's joint venture with LG Energy Solution, Ultium Cells, has opened its first plant in Ohio and plans to start production at a second plant in Tennessee in early 2024, followed by a third in Michigan in early 2025. These facilities, which produce Ultium battery packs, are crucial for GM's latest EV models in North America.
GM claims that the three battery plants will have an annual capacity of at least 135 gigawatt-hours (GWh), sufficient to supply around 1.35 million EVs annually. However, AFS forecasts a slower production ramp-up, estimating that the plants will only be able to produce 58 GWh worth of cells, equivalent to supplying approximately 550,000 vehicles. Fiorani of AFS believes that these limitations on battery capacity, as well as the availability of raw materials, could impede GM's projected EV volumes.
GM previously stated that it had secured enough battery raw materials, including lithium, nickel, cobalt, and cathode active material, to meet its goal of producing 1 million EVs per year in North America by 2025.
GM has an extensive global battery materials supply chain, involving investments, partnerships, and agreements with over 20 companies. However, delays and potential shortages in the supply of materials could arise as automakers worldwide accelerate their investments in and production plans for future EVs.
AFS suggests that GM's North American EV production targets beyond 2025 will continue to strain its battery plants, despite the recently announced partnership with Samsung SDI for a fourth factory expected to open in 2026. Accessing the necessary components and materials for future growth is anticipated to become increasingly challenging, according to the forecast.
AFS now predicts that GM will produce approximately 76,000 EVs in North America this year and 328,000 in 2024. The Chevrolet brand plans to launch several new electric models this year, such as the Equinox and Blazer EVs, as well as a Silverado EV pickup. Production of the Bolt EV and Bolt EUV will end later this year. GM has not yet fully ramped up production of the Cadillac Lyriq and GMC Hummer EV, delivering only limited numbers of these models in the first quarter of this year.