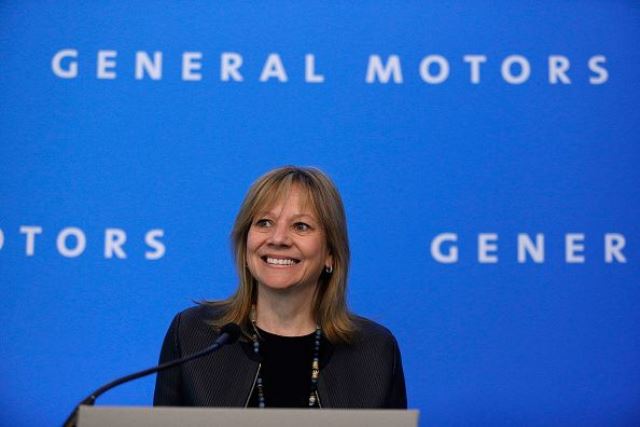 General Motors (GM) said its electric vehicles business will be profitable in 2025 in North America as the company scales EV capacity in the region to more than 1 million units annually.
GM aims at software revenue opportunities, generates significant greenhouse gas benefits and realizes the positive impacts of new clean energy tax credits, the company told investors at a meeting in New York City.
"GM's ability to grow EV sales is the payoff for many years of investment in R&D, design, engineering, manufacturing, our supply chain and a new EV customer experience that is designed to be the best in the industry," said GM Chair and CEO Mary Barra.
"Our multi-brand, multi-segment, multi price point EV strategy gives us incredible leverage to grow revenue and market share, and we believe our Ultium Platform and vertical integration will allow us to continuously improve battery performance and costs."
GM plans to move aggressively toward EV leadership as EV adoption is expected to approach 20 percent of U.S. industry sales in 2025.
GM will have multiple entries in pickup, SUV and luxury segments that represent about 70 percent of EV industry volume, including the Chevrolet Silverado EV, Blazer EV and Equinox EV, the Cadillac LYRIQ and the GMC Sierra EV.
GM is launching a new digital retail platform with its U.S. dealer partners to enhance the shopping and purchase experience for EV customers and reduce costs to GM by an estimated $2,000 per vehicle.
Five GM assembly plants in the U.S., Canada and Mexico will be building EVs.
BrightDrop — GM's tech startup creating EVs, eCarts and software — is on track to reach $1 billion in revenue in 2023, as GM's CAMI plant in Ontario launches full production of the BrightDrop Zevo 600 delivery van next year, and scaling to a projected 50,000 units annually by 2025.
GM's battery cell joint venture Ultium Cells will be operating plants in Ohio, Tennessee and Michigan by the end of 2024, making the company a leader in domestic cell production; a fourth U.S. cell plant is planned.
GM has secured binding commitments for all the battery raw material it needs to deliver its 2025 capacity target.
In 2023, Chevrolet and GMC will press their advantage in the pickup market with the new 2024 Chevrolet Silverado HD and GMC Sierra HD, which will be available in the first half of 2023, as well as the new Chevrolet Colorado and GMC Canyon mid-size pickups.
Company revenue is expected to grow at a 12 percent compound annual rate through 2025, reaching more than $225 billion as EV volumes and software revenue grow. Revenue from EVs is expected to be more than $50 billion in 2025.
GM expects to build 400,000 EVs in North America from 2022 through the first half of 2024 and grow capacity to 1 million units annually in North America in 2025.
GM expects to reach U.S. battery cell capacity of more than 160 GWh and 1.2 million cells per day by mid-decade.
GM is focused on reducing the cell costs for the next generation of its Ultium batteries to under $70/kWh by mid- to late-decade.
Total capital spending is expected to be $11-13 billion per year through 2025, funded by ongoing healthy cash flows.