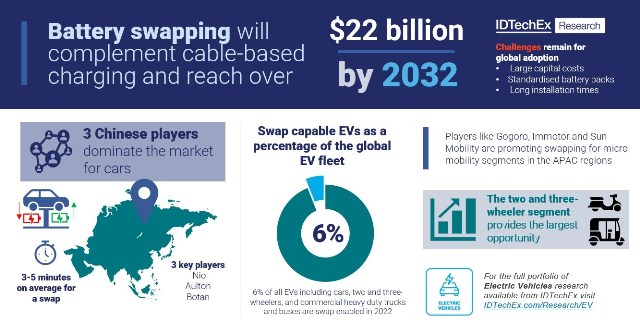 Battery swapping business is supporting the reduction in challenges from the traditional cable-based charging of electric vehicles (EVs), IDTechEx report said.
Swap-enabled vehicles across different segments are now entering the market. In 2021, 8 percent of all Chinese EVs were swap-capable. As opposed to fixed battery EVs, such swap-capable vehicles can get a fully charged battery in 3-5 minutes.
Battery swapping market leaders are Nio and Aulton, and emerging players are Ample and Power Swap.
Battery swapping reverses the standard time tradeoff between EVs and gasoline-powered vehicles, the report said. Many EV owners plug in overnight and charge for hours. In general, fast chargers can now charge a battery to 80 percent in a little under half an hour. But in that time, some battery swap stations could charge dozens of cars to 100 percent.
Centrally trickle charging batteries in a swap station also eliminate the degradation associated with DC fast charging. The IDTechEx report highlights the new opportunities that exist for utilities, battery pack manufacturers, vehicle OEMs, and battery recycling companies along the swapping value chain.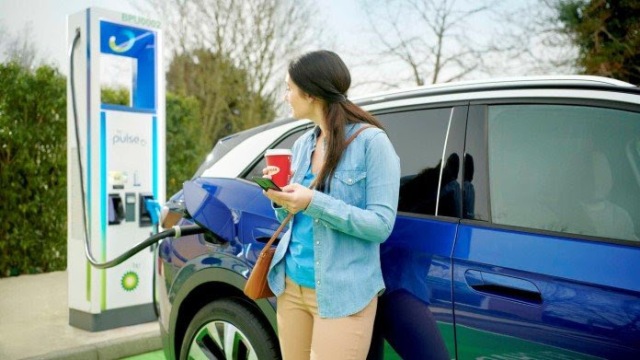 New business models
Battery as a Service (BaaS) is the latest in a series of buzzwords surrounding the hype of EVs and the future of battery technology. This is enabled by battery swapping, which aims to decouple the cost of the battery from the vehicle itself.
The maintenance, health, and cost of the battery ownership fall on the company offering the swapping service, and EV buyers simply pay for the usage based on their requirements. The report includes a cost comparison of swapping to AC/DC charging, total cost of ownership (TCO) analysis, and a comprehensive profitability study for this new business model.
Swap stations as grid support units
Empty batteries that are swapped out can be charged when electricity is cheap, or demand is low, the report said. Whoever owns those batteries can then sell that electricity to motorists at a premium or even sell it back into the grid when prices are high, and supplies are tight.
Integrating renewable energy helps balance supply and demand – banks of batteries waiting to be swapped can soak up extra energy and feed it back during peak hours. This new IDTechEx report finds that a growing network of swap stations may be one of the most economical ways to build out the large stationary energy storage necessary to support the world's growing renewable energy supplies.
The growing market for battery swapping
In grid-constrained urban centers, a network of battery swapping stations will emerge to offer recharging services to the mass market EV owners. This industry is seeing large investments and entry from battery manufacturers like CATL and SKI Innovation.
The global battery swapping infrastructure market value per year will be over $22 billion by 2032, according to IDTechEx forecasts.
While China is already demonstrating the effective use of swapping in taxi fleets, trucks, and private passenger car segments, other regions in Asia are pushing towards a swapping ecosystem for two and three-wheelers.