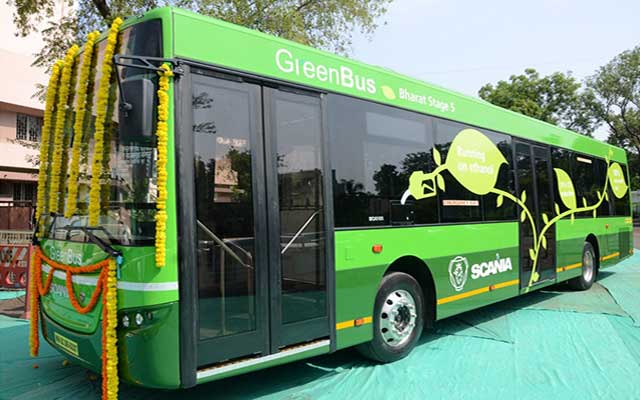 The government of India has advised the western state Maharashtra to introduce biofuel-supplemented buses in cities including Pune and Kolhapur. The proposal would be covered under the central government's "Green Bus" project.
Nitin Gadkari, the Union minister for road transport and highways, has asked Maharashtra to prepare a plan to raise a fleet of such buses. The availability of sugarcane in the region makes it ideal for production of ethanol, the chief ingredient of biofuel.
Currently the state government officials are studying the operations of biofuel-supplemented buses in Nagpur where the project was launched last year as an experiment, The Times of India reports.
The centre plans to assist Nagpur Municipal Corporation to procure 200-500 biofuel-supplemented buses for operations in the city under the 'Green Bus' project. A proposal to introduce electric buses is also in consideration.
Two factors have contributed chiefly to the central government's decision to go for introducing biofuel in public transport. First, India is looking to cut pollution levels that have placed it as the third worst polluter of the world. Two, several state-run transport corporations have been running on losses owing to high diesel costs.
By bringing biofuels into the mainstream fuel supply, the central government aims to address both concerns.
The government proposes to accelerate the cultivation of biofuel-yielding crops and promote its use in both transport and stationary applications.
By one estimate India has demand for 33 metric tonnes of biofuel annually. Production and consumption, however, has been limited to 0.11 metric tonnes from 2009 to 2014.
However, introduction of biofuel-supplemented vehicles alone is unlikely to deliver the desired results. The Times of India, quoting Sunita Narain, the director of Centre for Science and Development, said biofuels are not substitutes for fossil fuels and therefore cannot replace them. They can only limit the use of fossil fuels, she said.
She has also warned against any move to incentivize cultivation of biofuel-yielding crops. She insisted that an effective solution to pollution would be to reduce the number of vehicles in use. Only then can the introduction of biofuels ever have an impact, she added.
Ajith Kumar S
editor@greentechlead.com