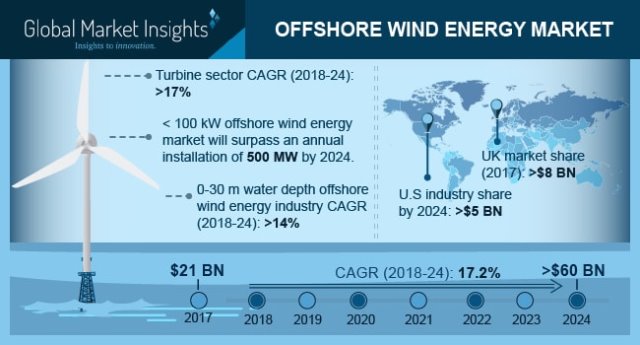 Offshore wind energy market is forecast to cross $60 billion by 2024, according to a report from Global Market insights.
The U.S. offshore wind energy market is projected to exceed $5 billion by 2024. Recent discovery of potential sites coupled with crucial investments to improve the offshore supply chain will drive the industry size.
Technological advancements in turbine designs accompanied by improved efficiency and cost reduction will stimulate the offshore wind energy market. GE Renewable Energy, in March 2018, launched the Haliade-X, a 12 MW offshore turbine offering a 45 percent increase in electricity generation compared with current offshore projects.
Increasing funding toward the utilization of clean energy resources from various financial institutions including Asian Development Bank (ADB), the World Bank and International Finance Corporation (IFC) will enhance offshore wind energy market. The UK Government has established the Offshore Wind Investment Organization to facilitate funding toward the sustainable energy resource integration to maintain effective offshore wind supply chain.
The turbines account for a major share of the total project prices and play a key role toward the feasibility and plant performance. In addition, ongoing developments in turbine length and size for offshore installations, developing turbine assembly concepts and new blade designs are some of the essential factors strengthening the offshore wind energy market.
Introduction of variable transmission devices, superconducting generators and enhanced generator speed are some essential advancements driving the offshore wind energy market. Technological advancements in the construction of effective cooling systems and the use of high voltage array cables will further stimulate the business potential.
Europe's offshore wind energy market will witness growth on account of favorable government regulations, decarbonization reforms and energy security initiatives. Increasing investments by leading companies to explore the offshore potential will further drive the industry landscape.
According to Wind Europe, the industry invested about $59 billion in Europe, with investments coming from public market transactions, new assets and mergers at project levels.
Notable players across the offshore wind energy market include Enercon, Vestas, GE, Nordex Acciona, Siemens Gamesa, Senvion, MHI-Vestas, Goldwind, United Power, Envision Energy, Suzlon, Mingyang, Wobben, WEG SA, Impsa, Clipper, Bergey, LM, Enessere, Northern Power Systems, RTS, Global Energy Services, Availon, Prysmian, General Cable, Furukawa Electric, Southwire, Nexans, LS Cable, and Sumitomo.