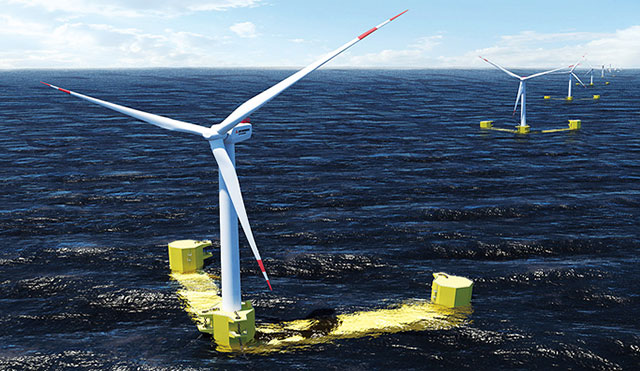 France is all set to invite tender for developing pilot floating offshore wind farms.
According to Reuters, the country proposes to develop two to three floating turbine projects with capacities of 15 to 60 megawatts each amounting to total capacity of 100 to 120 megawatts through the initiative.
"In Europe, the French offshore tender would be the first of this size," Matthieu Monnier, head of offshore wind at France Energie Eolienne (FEE) a French wind industry trade group, has told Reuters.
Previously Portugal and Norway pioneered the new technology with one floating turbine each, and Portugal plans to build a 25 MW floating wind demonstration farm. Japan also has floating offshore wind projects.
The FEE expects to receive feed-in tariff of more than 200 euros per megawatt hour for the project considering the costs involved in the novel technology. The projects will also receive 150 million euro investment subsidy.
FEE has already identified four sites off the French coast for offshore wind development, including Leucate, Brescou and Fos-sur-Mer on the Riviera, which has year-round strong winds and where the Mediterranean sea floor slopes steeply. A fourth area is around the island of Ile de Groix, off southern Brittany.
There is a possibility that the projects would deploy technologies such as turbines with a vertical rotor axis at the sites.
Ajith Kumar S
editor@greentechlead.com