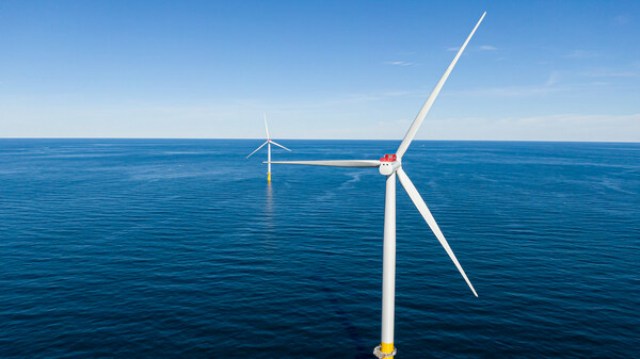 In a significant leap towards renewable energy goals, Dominion Energy's Coastal Virginia Offshore Wind (CVOW) commercial project has achieved a major regulatory milestone. The Bureau of Ocean Energy Management confirmed the completion of its environmental analysis for the 2.6-gigawatt project set off the Virginia Beach coast.
The Final Environmental Impact Statement (EIS) reflects extensive input from stakeholders, including Tribal Nations, ocean users, local communities, and the offshore wind industry. It comprehensively analyzes potential environmental impacts and suggests mitigation measures associated with CVOW's construction. The Notice of Availability for the final EIS is scheduled for publication in the Federal Register on Friday, September 29, 2023.
Bob Blue, Dominion Energy's chair, president, and chief executive officer, emphasized the positive implications of this milestone. "The completion of CVOW's environmental review is another significant milestone to keep the project on time and on budget," he stated. Blue underlined the benefits of regulated offshore wind, including being fuel and emissions-free, and its role in diversifying the fuel mix to bolster grid reliability.
CVOW stands as the largest offshore wind project under development in the United States, promising to provide carbon-free electricity to approximately 660,000 Virginia homes and generating expected fuel savings exceeding $3 billion for customers during the initial decade of operation.
The EIS incorporates public feedback and careful studies to maximize CVOW's environmental advantages while minimizing potential impacts. Actions, both offshore and onshore, have been designed to mitigate effects on marine life, such as North Atlantic right whales, and to minimize impacts on natural and cultural resources and environmental justice communities.
Dominion Energy's proposal involves constructing 176 14.7-megawatt wind turbines and three offshore substations within a 112,800-acre commercial lease area located 27 miles off the Virginia Beach coast.
CVOW's economic development and job creation potential are transformative for Hampton Roads and the Commonwealth, extending to diverse communities. The project is anticipated to generate hundreds of direct and indirect jobs during construction and over a thousand jobs during operations. Additionally, it will attract investments, positioning Virginia as a hub for offshore wind development and support.
With over 750 Virginia-based workers, including approximately 530 in the Hampton Roads region, currently involved in the CVOW project or supporting related activities, the positive impact on the local economy is already evident. These jobs encompass a wide range of sectors, including maritime provisioning, ship repairs, cybersecurity, and hospitality, contributing to the region's growth and development.