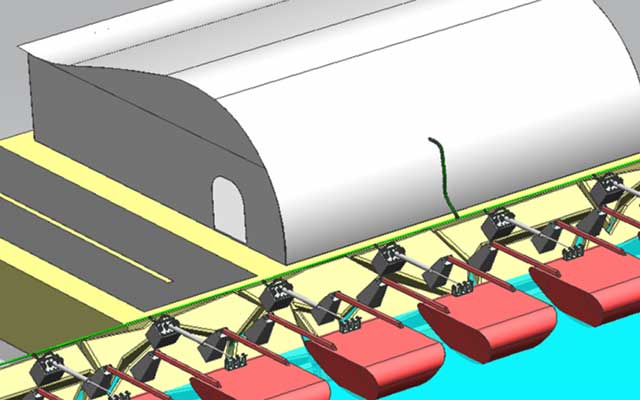 An Israeli-South African joint venture is to develop a wave-based power project on the coast of South Africa.
Blackbird International Corporation, an Israeli company specializing in wave energy based power projects, its wholly owned affiliate Wave Electricity Renewable Power Ocean (WERPO), and South African partner Wadamba Technovations are developing the 500-megawatt project.
WERPO to build wave energy plant off South Africa @SDEenergyLTD #waveenergy #SouthAfrica
More: http://t.co/5UjzVhccIK pic.twitter.com/fs0Jids4W7

— MarineEnergy.biz (@TEToday) August 4, 2015
The project is expected to generate in excess of $140,000,000 in revenue annually.
According to Daniel Naimi, the head of operations, states, Blackbird, the company will be releasing additional contracts for similar projects in the weeks ahead.
South Africa currently depends on coal-fired power plants to meet 77 percent of its total electricity needs. Although the country has substantial reserves of coal, the government has recognized the need to adopt renewable sources of energy considering the environmental costs of fossil-fuel based power generation.
The South African government has allocated more than $3.3 billion toward the development of alternative energy sources. It is targeting development of 18.2 gigawatts of renewable energy capacity by 2030.
https://youtu.be/Bf5fOr8XjpY
And with its coastline extending to 3,000 kilometres, South Africa owns huge potential for the generation of electricity from waves.
The government, too, has expressed interest in tapping this potential to help meet the alternative energy goals of the country.
Oceans provide different avenues for power generation. According to an estimate, the oceans hold the potential to provide energy in the form of waves (40,000 MW), tides (9000 MW) and thermal gradients (180,000 MW).
South Africa to Get Wave Power Plant http://t.co/tDaZRqVA6P

— RenewaNews (@renewanews) August 4, 2015
Now offshore wind projects are also becoming popular considering the wind potential observed in the open ocean.
Although the deployment of such technology is limited owing to paucity of locations with ideal conditions, the sector is poised for growth. New technology will enable harnessing of power even from locations currently considered less than ideal for the purpose.
Ajith Kumar S