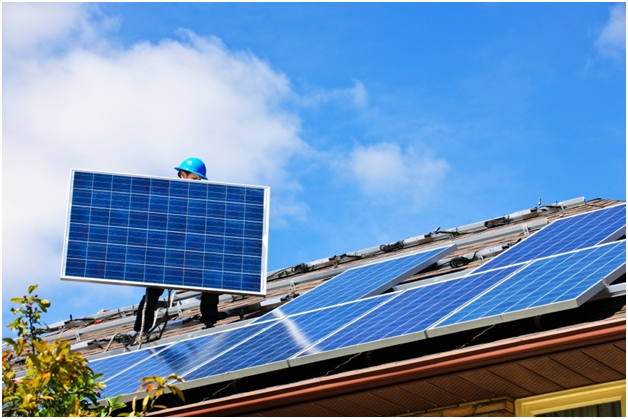 India has installed about 2,538 MW rooftop solar power capacity as of March 2018 against the target of installing 40,000 MW by 2022, IndiaSpend reported.
The development jeopardises India's overall solar target of 100 GW by 2022.
India's ambitious target is backed by a 30 percent subsidy for residential buildings. But this has failed to enthuse home owners, the majority of whom pay small electricity bills and find the cost of solar equipment prohibitive in comparison.
Commercial and industrial building owners have shown more enthusiasm as their large power bills justify the expense of solar power systems, even though they get no subsidy. But here, policy and regulation are blocking the way, say a range of industry participants, including installation businesses, consultants and power distribution companies (discoms).
"The government needs to do much more if it is serious about the 40 GW target," said Sanjeev Agarwal, managing director and CEO of Amplus Solar, one of the largest rooftop solar installations companies in India.
Current scenario
After India announced the Jawarharlal Nehru National Solar Mission in 2010, rooftop installations went from zero to grow annually at a compound annual rate of 117 percent between financial year 2013-14 and 2017-18.
In 2015, the ministry of new and renewable energy announced its 40 GW target and a subsidy for home-owners to install rooftop systems, and began to urge state governments to announce policies to enable net-metering, a billing mechanism that enables power consumers to be paid for injecting renewable power into the grid.
The segment has since grown to install 2,538 MW as of March 31, 2018, according to the consultancy Bridge to India. This gives rooftop solar a 10 percent share in India's overall solar capacity installation, with large-scale and off-grid solar installations cumulatively nearing 22,000 MW during the same period.
The earliest and most eager adopters of rooftop solar have been commercial and industrial users, accounting for 544 MW and 1,088 MW of capacity installation, as per Bridge to India. "They have large rooftops and large consumption, and are able to break even in 3-4 years," Kanika Khanna, director of SunkalpEnergy, which brings together rooftop owners and solar system installers, said.
Commercial and industrial customers also get tax breaks such as accelerated depreciation–a tax saving accounting tool that enables a business to front-load capital expenses in the earlier years of a project's lifecycle to claim tax rebates–Vibhav Nuwal, director of data analytics and management consultancy REConnect, said.
Companies such as Amplus, CleanMax and Fourthpartner have raised large amounts of money from global and Indian investors, he said, betting big on the potential of the segment in India.
Across India, grid power tariffs vary by state, but generally, residential tariffs are subsidised and quite low for small users (roughly Rs 5 or 0.07 cents per kilowatt-hour), but get progressively higher for larger users (around Rs 7.75 per kilowatt-hour).
That makes the wealthier home-owners also interested. This is particularly true of wealthy residences that have no grid connection, such as 'farmhouses' around Delhi that the government does not consider legal and so does not provide electricity connections to, and homes that have such erratic power supply that they rely largely on diesel generators, such as gated communities in Gurgaon, Khanna said. "Many South Delhi homes have seen their electricity bills go from Rs 120,000 [$1,740] a month to Rs 30,000 [$435]," she said.
For the vast majority of home-owners, however, the subsidised power from the grid is so cheap that it does not make economic sense to spend on expensive solar power systems. This is why only 503 MW have been installed on private homes.
The renewables ministry gives home-owners a 30 percent subsidy on the cost of equipment. "But the process is long-winded and involves many permissions," Khanna said, which can take up to four months, "Though in some states you could wait for up to a year and a half" For small retail consumers such as households, that is too long a wait.
Some of the agencies whose approvals are required, listed in a November 2016 'Concept Note' by the renewables ministry, are: The respective state Regulatory Commission (for net metering regulation), discoms (for net-metering), the Chief Electrical Inspector (for safety aspects), the state nodal agency of the central renewables ministry (for release of subsidy), banks (for housing/ improvement loan), and the urban local body (for adherence with building byelaws).
For this reason, "Nobody is looking at subsidy anymore", Agarwal said, "[Businesses] don't want to get into the residential sector because the subsidy is not enough, the paperwork is too much, you are forced to use domestic equipment that is not the best in the market, and then get an inflated invoice because companies want to claim more subsidy." He was referring to the fact that state nodal agencies select equipment suppliers that quote the lowest prices, who then go on to supply equipment of questionable quality.
Installation businesses instead want to focus on commercial and industrial rooftops. But here, too, the government must urgently improve the ease of doing business, Agarwal said.
Perhaps the biggest challenge the rooftop solar segment faces is opposition from discoms. To keep residential tariffs low, utilities charge higher tariffs from commercial and industrial customers to cross-subsidise residences.
In theory, utilities would gain as more users moved to rooftop systems because it would cut down their transmission and distribution losses–which the World Bank recorded at 19 percent in 2014.
All rooftop capacity installed in their license areas also goes towards offsetting their renewable purchase obligations, under which discoms (and other large power users) must source a state-specific portion of their power use from renewable sources.
The renewables ministry in December 2017 proposed a scheme, called Sustainable Rooftop Implementation for Solar Transfiguration of India (SRISTI), to make utilities the central agencies responsible for installing rooftop solar power plants in the residential sector while offering them a subsidy on installation costs in addition to incentives based on capacity added.
As per the scheme, utilities would take on all tasks involved in setting up rooftop systems, including creating awareness among rooftop owners and getting them to agree to install solar plants, obtaining the various approvals required, installing the equipment and managing the billing, etc. thereafter.
Some utilities support this scheme, saying their existing interface with consumers can be put to good use. The trust that exists between the consumer and the utility is absent between the installer or the developer, Jitendra Nalwaya, additional vice-president at the private Delhi utility BSES Delhi, said.
Utilities stand to gain from making low-tariff paying residential consumers migrate to rooftop systems, Neeraj Kuldeep, programme associate at Delhi-based research and advocacy group Council on Energy, Environment and Water (CEEW), said.
A June 2018 study by CEEW, BSES and Shakti Sustainable Energy Foundation suggested alternative business models that give utilities a central role in installing rooftop systems as well as in collecting user fees, from which they would earn revenue, while eliminating the need for rooftop owners to make any upfront expenditure.
One such model, called the 'solar partner model', would have the utility play demand and supply aggregator; systems would be installed through competitive bidding, and rooftop owners would either earn monthly rent for use of their roof or get a credit on their electricity bill.
Another, called the 'on-bill financing model', would have the utility aggregate consumers and help them get loans below market rates to install rooftop systems, which they would repay with their electricity bills.
Madhur Singh / IndiaSpend
Benefits of Betting on Sports with Bitcoin | Georgia apostille. Including apostille documents .